PAQCompress is a Graphical User Interface for the powerful PAQ Compression software.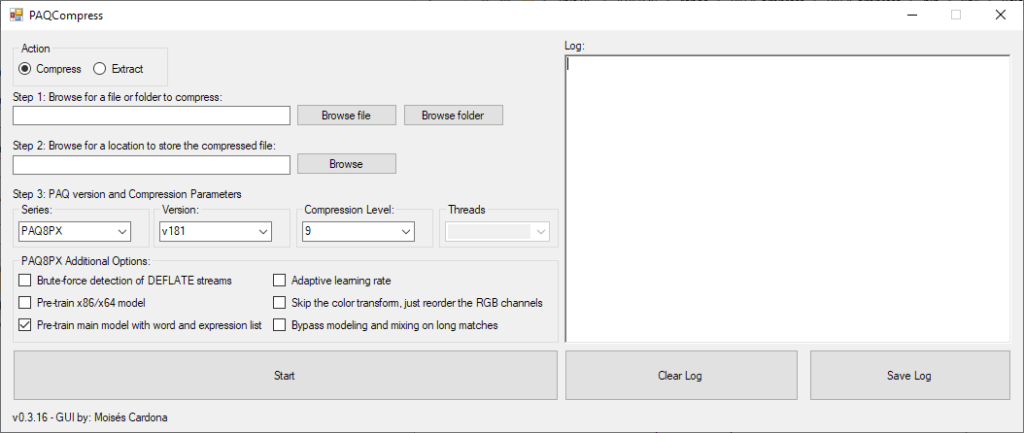 With PAQCompress, you can compress your files using the latest PAQ versions, preferably using PAQ8PX. You can save a lot of space, but at the expense of speed and RAM consumption. Hence, PAQ is great for small files, but also for big files if you have a lot of patience.
The good thing about PAQ is that it's an open-source compressor and the community keeps improving it from time to time, so you can get better compression with each new release.
It is very important to always test (extract and compare) your files after compression. PAQ is experimental software and bugs may happen, even if your files are compressed successfully.
PAQCompress supports the following PAQ Families/Series:
Downloads
Changelog
v0.3.16
v0.3.15
v0.3.14
v0.3.13
v0.3.12
v0.3.11
Added paq8px_v179fix2.
Added paq8pxv_v12.
v0.3.10
Added paq8px_v179 and paq8px_v179fix1.
Added paq8px_v147 which was previously missing.
v0.3.9
Fixed OpenFileDialog message saying "Browse for a file to compress" when the Extract Radiobutton was checked.
v0.3.8
v0.3.7
Added paq8pxd v64.
Added paq8pxv v6.
v0.3.6
v0.3.5
Added paq8pxv_v4.
Added paq8p_pc v0.
v0.3.4
v0.3.3
v0.3.2
v0.3.1
v0.3
You can now drag and drop a file into the software icon.
v0.2
This release adds support for PAQ8PX v176 and PAQ8PX v177.
v0.1