EVGA will not make next-generation Graphics Cards. A look at my EVGA GeForce GTX 1060 3GB Superclocked
EVGA will not make next-generation Graphics Cards. A look at my EVGA GeForce GTX 1060 3GB Superclocked
Hi everyone,
EVGA is reportedly quitting the graphics card market and will not make next-generation cards. With the NVidia GeForce 40-series reveal right around the corner, those who wish to upgrade their cards must make the switch to a new GPU vendor, like ASUS, Gigabyte, MSI, PNY, and Zotac.
I myself got my first EVGA card back in 2016. It is the EVGA GeForce 1060 3GB Superclocked version that costed just about $200 dollars at that moment.
This GPU is still in use today with no intentions to upgrade to a new card, given the high cost of new ones, and the fact that this card is still meeting my daily tasks needs. This card has gone through 3 different systems, or 4 if we add an experiment I did once to use it on a laptop using its mini–PCI Express slot. Below, we will see those systems.
EVGA GeForce GTX 1060 with a Jetway NF9G-QM77 motherboard
The purpose of me getting this card at first was to use it as a dedicated graphics card with a mobile Intel i7-3610QM. This is a laptop CPU from an MSI laptop that suddenly started to turn off randomly, until it stopped working. At that time, I opened the laptop and took out every component I could reuse.
Sometime later, I tried to see if there were any desktop motherboards that accepted 3rd-gen Intel i7 CPUs. That's when I came to the also-$200-dollar Jetway NF9G-QM77 motherboard. This board is targeted to industrial environments but works well for general purpose uses too. It also has a full x16 PCI-Express slot that communicates directly with the CPU. This means I could add a dedicated GPU, and so the GeForce 1060 card was installed to it.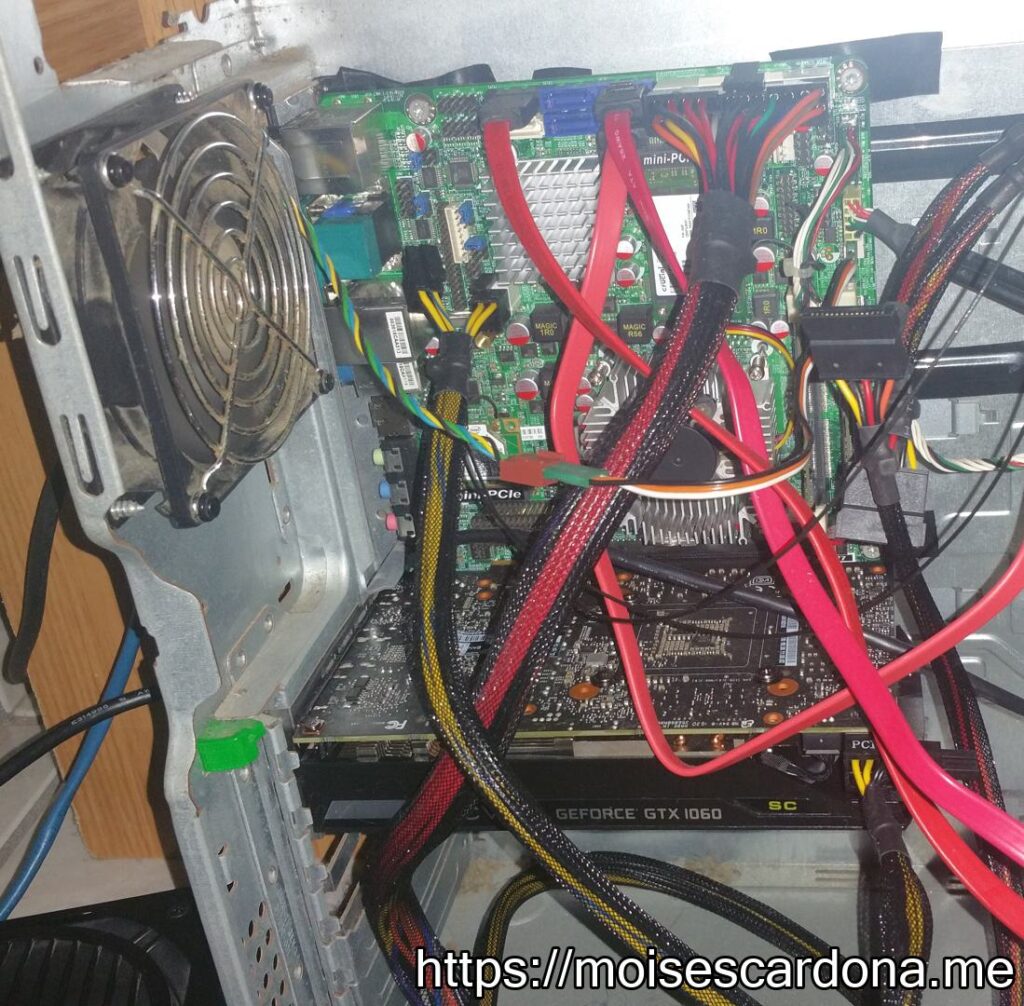 I even reused an old HP desktop case to install this motherboard. This is why it looks a bit rusty there, but it was temporary. I then got a Thermaltake Mini-ITX case where I placed this motherboard along with the GPU: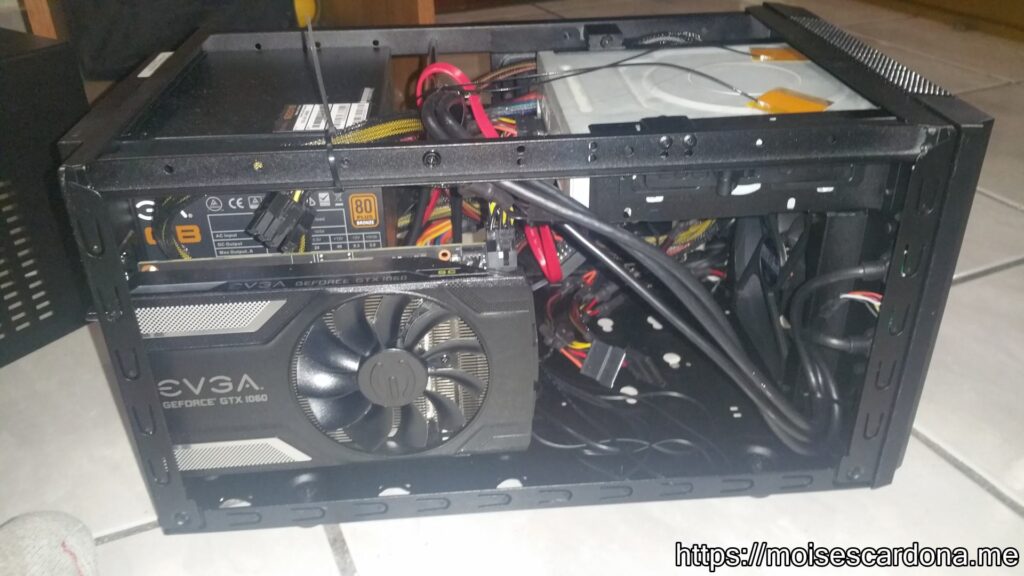 EVGA GeForce GTX 1060 on a Mini-PCI Express to x16 PCI Express adapter
This was as a just-for-fun experiment. My Lenovo Y510p laptop originally came with 2 Nvidia GeForce GT 750 GPUs, but one of them died. The laptop would run with the dedicated Nvidia GPU, deactivating the Intel Integrated GPU when both cards were present. If we removed the removable GPU, it then worked in Switchable Graphics mode.
Once more, after investigating a bit, I found that it was possible to use a full-sized GPU in a laptop by using a Mini-PCI Express to x16 PCI Express adapter. Of course, the card only ran in x1 mode, and then later, an Nvidia driver broke it. Still, it was a nice experiment. The game frame rate was low too!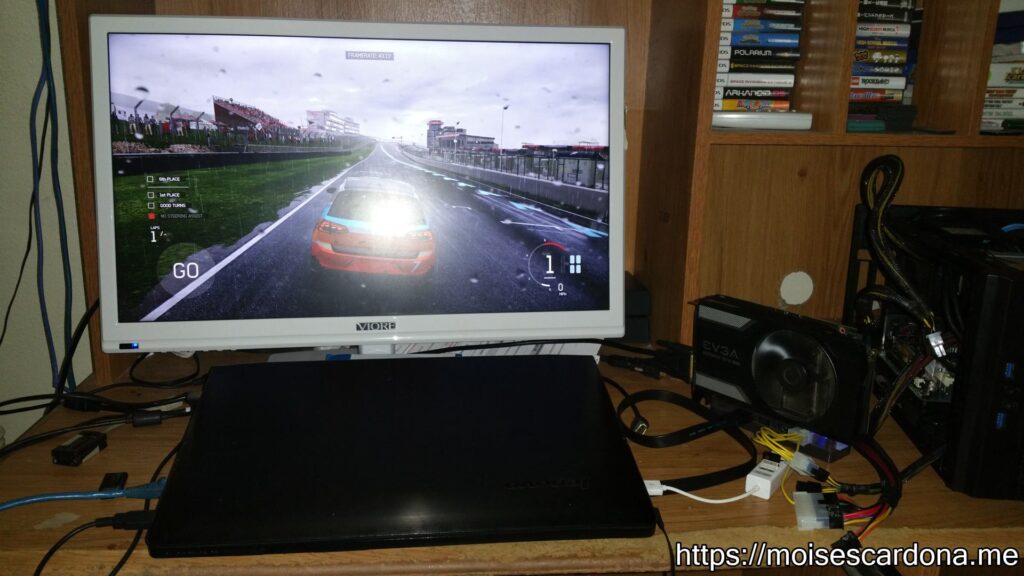 EVGA GeForce GTX 1060 with an ASUS B350M-A/CSM motherboard
Enter the AMD Ryzen era. The 8-core/16-thread Ryzen CPU was an affordable upgrade to do, and this was also my first AMD CPU. I paired the CPU with an ASUS B350M-A/CSM motherboard, where I also installed the EVGA GPU. Initially, I used a Micro-ATX case from Rosewill: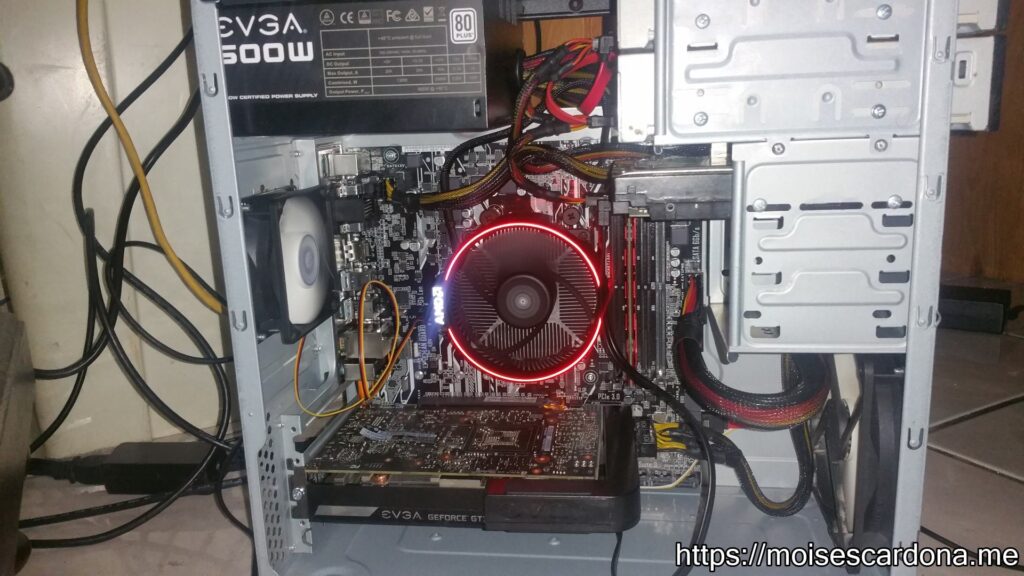 I then switched to a Thermaltake case that is still in use today: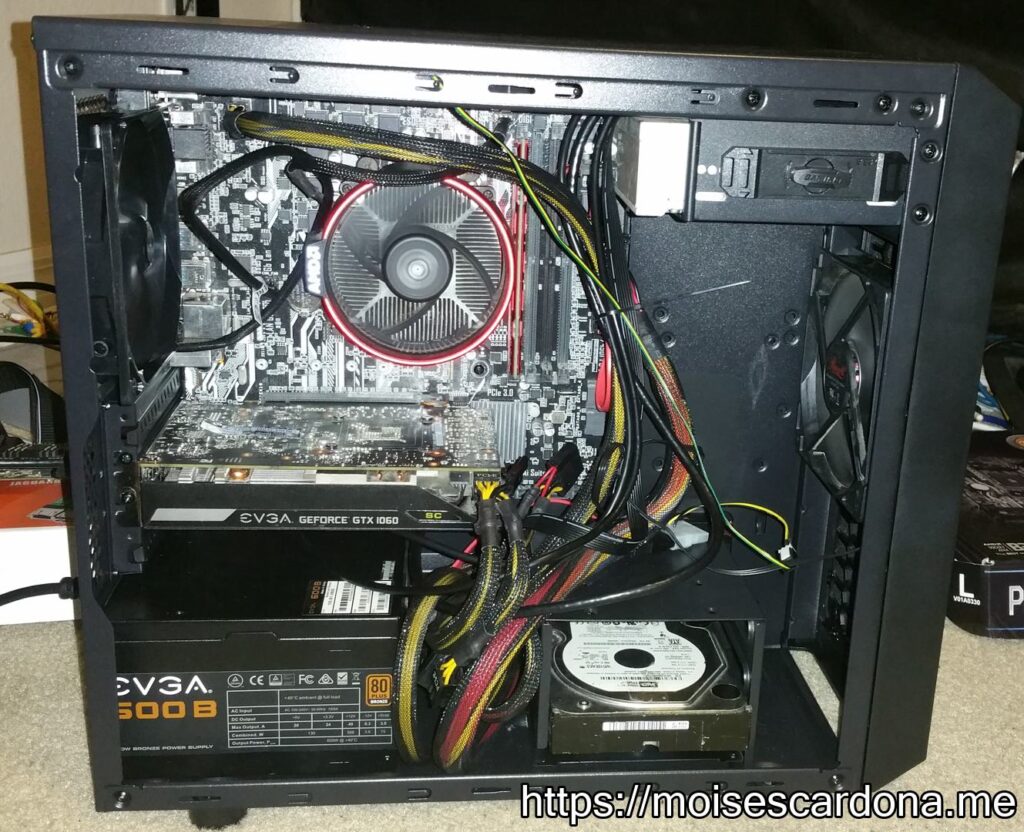 EVGA GeForce GTX 1060 with an ASRock X570M Pro4 motherboard
2 years ago, I upgraded my system to the AMD Ryzen 9 3950x. This required getting a new motherboard, so I went with the ASRock X570M Pro4. This is currently the main desktop computer that I'm using, where the EVGA GeForce 1060 3GB Superclocked card is working very well with both Windows 11 and Linux. I'm running Windows 11 as a QEMU/KVM Virtual Machine passing through the EVGA card to it. Before that, Linux worked well with both the open source Nouveau driver as well as the Nvidia proprietary driver.
As we can see, the card has survived for 4 years now, and I hope it continues to survive. EVGA says they will continue to support their current cards, and while mine is now 2 generations behind, I can say that EVGA has done a wonderful job creating powerful, long-lasting graphics cards.