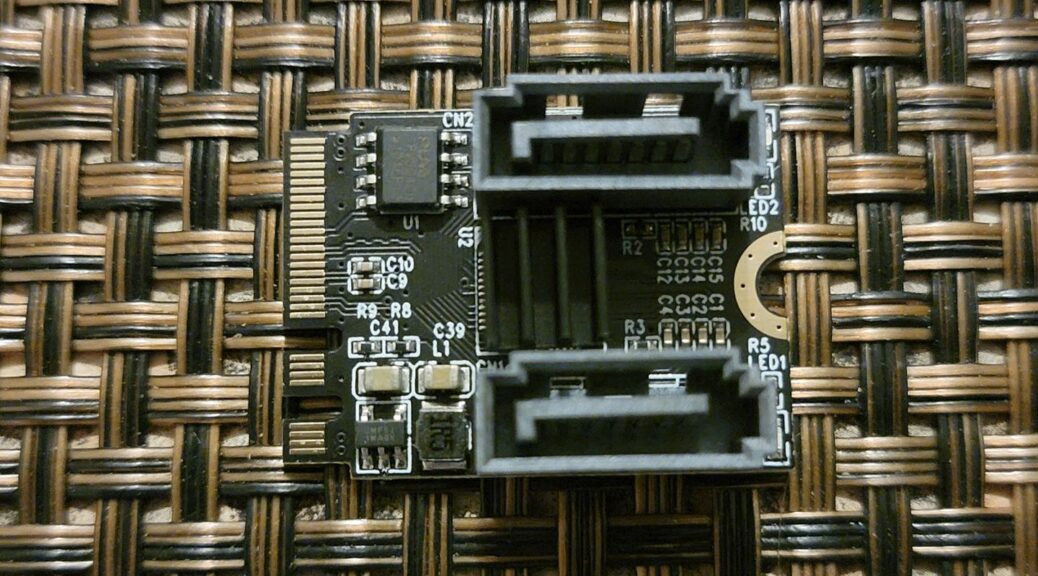 The CableCC / CY M.2 Key A+E PCI Express to dual SATA adapter
The CableCC / CY M.2 Key A+E PCI Express to dual SATA adapter
Hi everyone,
In this post, I will be showing you the CableCC / CY M.2 Key A+E PCI Express to dual SATA adapter.
This adapter is a similar product from the controller we saw yesterday, with a different form factor and controller chip. This model is made to fit into the Wi-Fi M.2 slot that usually has an A+E key on modern motherboards, whereas yesterday's post was about a Mini PCI Express version. Today's model also uses a JMicron JMB582 controller chip as opposed to the ASMedia ASM1061 from the Mini PCI Express version. Other than that, the purpose is to add 2 dedicated SATA ports to our machines.
This card is another example of an unusual device, as the M.2 Key A+E slot is usually reserved for Wi-Fi and Bluetooth cards.
As with the Mini PCI Express version, I will also be using this card to add 2 SATA ports to a QEMU Windows Machine.
Unboxing and installing the card
This card came in a generic white box, with the CableCC and CY branding in it. On Amazon, it appears as a ChenYang CY product rather than a CableCC product, although there are more similar products, which ultimately seem to refer to the same:
Once we open the box, we see the contents, with the card and a screw shown first, followed by 2 SATA cables:
The box content:
This card is very small. It also came with a heatsink pre-installed into it. Beneath it is the JMicron JMB582: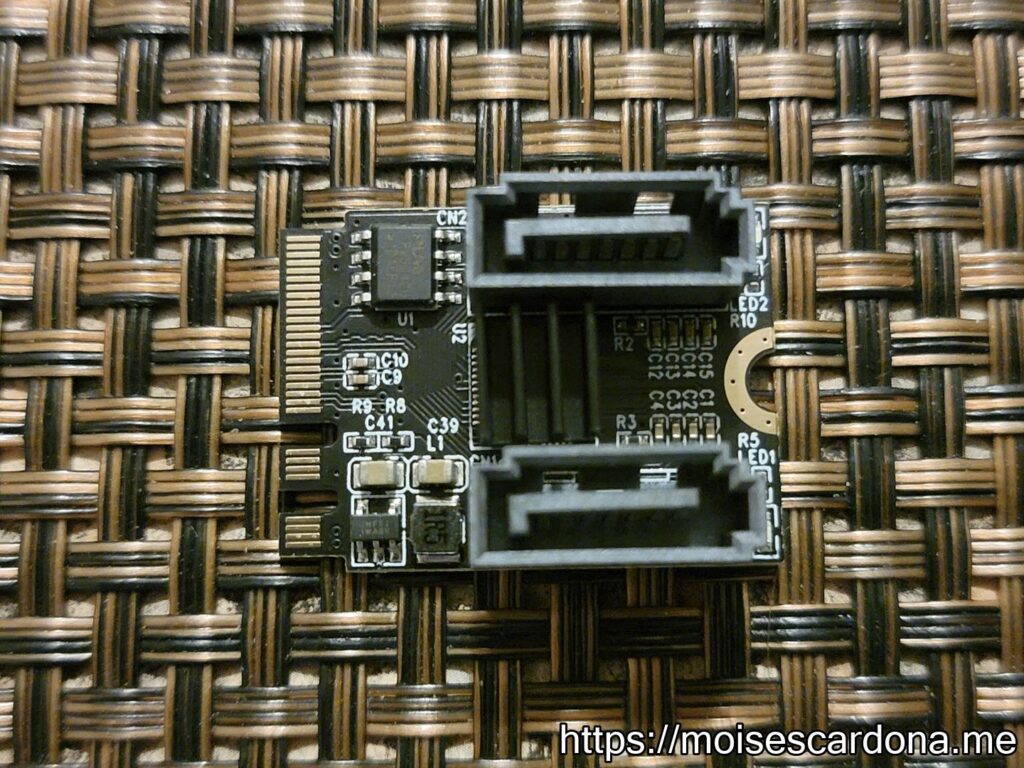 The motherboard I'm using to install this card is an ASRock X570M Pro4, which has a dedicated Wi-Fi M.2 Key A+E slot:
I will be removing the Intel Wi-Fi AX210 card from it to install this SATA M.2 Key A+E card:
Installing it was a bit tricky, given the small size. Ultimately, I ended up using the included screw, which make it easier to secure into the board:
In Linux, it got identified as a JMicron JMB58x AHCI SATA Controller: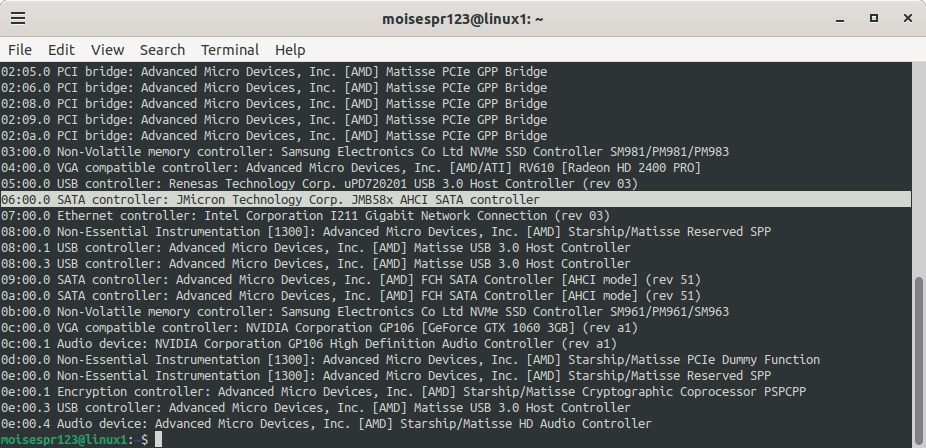 In Windows, it is shown as a Standard SATA AHCI Controller device. The other SATA controller is QEMU's virtual SATA controller device:
This card has individual green LEDs for each SATA port. They stay lit, until there is activity, when it then begins to flash:
Conclusion
The CableCC / CY M.2 Key A+E PCI Express to dual SATA ports is a great way to expand our machines by adding 2 additional and separated SATA ports. Be it that you want to isolate some drives from your main SATA controller, or you want to use a dedicated card for passing through to a virtual machine, this card will fit your needs.
Some boards come with a Wi-Fi Key A+E slot, although nowadays it is turning rare given that they are coming with the Wi-Fi module soldered in them. However, if you have a board with this type of slot, this card should be compatible with it.
I'm using 2 Western Digital drives with this controller, and they are performing just fine.
I'd say the drawback of these types of cards is that you have to check the activity either by taking a look at the case to see the LEDs or use the Windows Task Manager to check for drive activity. Other than that, it performs as intended and works very well inside my Windows VM by passing this card to it with QEMU.
You can get this M.2 Key A+E PCI Express card on Amazon at the following link: