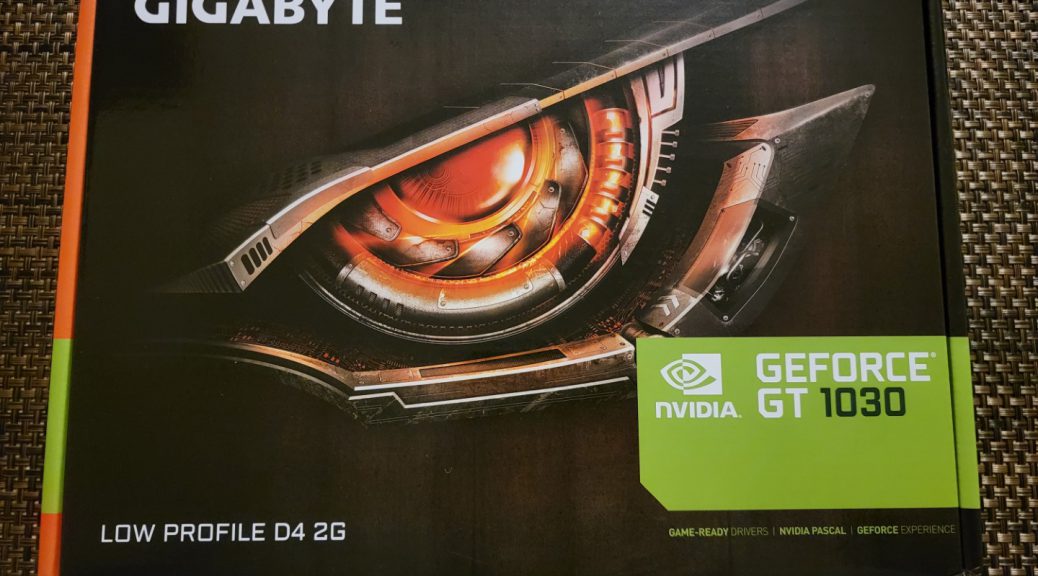 The Gigabyte GV-N1030D4-2GL Nvidia Geforce GT 1030 Low Profile D4 2G DDR4 2GB Graphics Card
The Gigabyte GV-N1030D4-2GL Nvidia Geforce GT 1030 Low Profile D4 2G DDR4 2GB Graphics Card
Hi everyone,
Today, we will be seeing the Gigabyte GV-N1030D4-2GL Nvidia Geforce GT 1030 Low Profile D4 2G Graphics Card. This is a Low-Profile GPU designed to fit on regular PCs but also on low profile cases. It is powered by an Nvidia Geforce GT 1030 GPU and have 2GB of DDR4 memory.
Being a low-profile card, besides fitting on a low-profile case, means that this GPU is made for light uses like media playback or simple, non-graphics intensive games. This GPU contents includes the GPU itself, the low-profile bracket, a manual and the driver CD:
The GPU comes very well protected on an Anti-Static bag, and the PCI-Express connector is fully covered with a rubber protector.
The card comes by default with the regular bracket preinstalled, but we can switch it to the low profile bracket by removing the bracket screw and taking out the DVI screws.
Here's how the GPU looks with the low-profile bracket installed:
Now, it's time to insert it into the machine:
Now, we have the back of our PC case fully covered. The GPU fits nice in this slot and now we can enjoy playing back movies with it, as its NVDEC feature will decode the video files, offloading the CPU from that job.
The machine was able to identify the card, although initially, it installed a driver from last year. I had to download the newest current drivers and install it. Sometimes, I had a Green Screen when using the VLC media player software and I'm not sure if it may have to do with the fact that I was using an outdated driver. So far, I have not encountered more issues with the current one.
After updating the graphics card driver, I'm now able to watch movies on my home media PC with excellent quality. This low-profile card does the job.
You can get it on Amazon at the following link: