Gridcoin Faucets & Tools v1.2.2 for Android released!
Gridcoin Faucets & Tools v1.2.2 for Android released!
NOTE: This app is no longer updated or maintained.
Hi everyone,
Today, I released Gridcoin Faucets & Tools v1.2.2 update for Android. If you have never heard of this Gridcoin-related app, it is an app designed to give you access to Gridcoin Faucets as well as to provide several useful tools. You can check your Gridcoin Balance directly, check out your CPID and Magnitude with the Magnitude Calculator, use the Explorer section to check out blocks, transactions, and addresses, and it checks out the Gridcoin Value against several currencies.
This is the full feature list of the app:
Gridcoin Faucets to use and earn free Gridcoin!
Notifications so you know when you can get more Gridcoin!
See your current address balance right in the app!
GRC/Magnitude Calculator based on your CPID.
Project Whitelist.
Block Explorer which you can use to check out blocks, addresses, and transactions.
Current GRC Value and Calculator.
Community Links so you can hang with us on IRC or Listen to our Gridcoin Hangouts on Soundcloud.
What's New?
As you may know, the Gridcoin Community is making their Gridcoin Hangouts every week, and that's why now, with the v1.2.2 update, you can go to the new "Community" section where you can go straight to SoundCloud to listen to the Gridcoin Hangouts directly! Not only that, but you now also have direct link to the Twitter page, the Forum, Reddit, Facebook and the Github repo.
New with this update is also the inclusion of the EOBOT Faucet, which was previously missing in the app. Now you can earn free Gridcoin by visiting EOBOT directly from the app.
Lastly, I added a direct link to the Gridcoin Remote app. If you have not downloaded it, the app will redirect you to the Google Play Store to download the app. If you already have the Gridcoin Remote app installed, it will load automatically. If you missed my post about this new app, check it out here!
Changelog:
v1.2.2
Updated Main Screen
Added EOBOT Faucet
Added Community Links sections
Download:
You can get the app in the Google Play Store here:
https://play.google.com/store/apps/details?id=msc.moisessoftwares.gridcoinfaucetstools
Screenshots:
v1.2.2 Main Screen: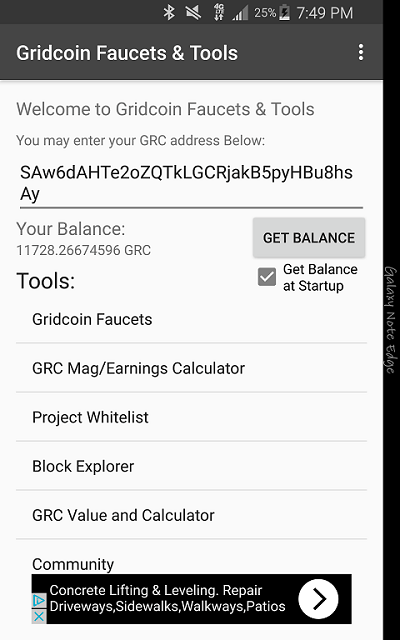 New Community Links section: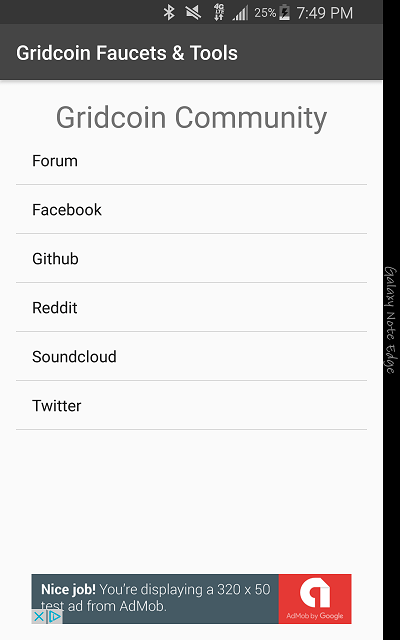 Enjoy!