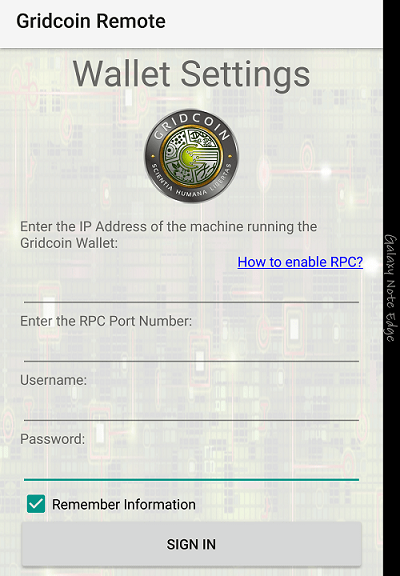 Introducing Gridcoin Remote for Android
Introducing Gridcoin Remote for Android
Hi everyone!
Today, I'm going to talk to you about my newest app, Gridcoin Remote.
Gridcoin Remote is an app that allows you to access your Gridcoin Wallet in your PC right from your Android Device. It is as simple as entering your PC IP Address, Port Number, Username and Password, and that's it! Log in and see your wallet details. You can see your Balance and Address, along with other useful network information.
Features:
Connect to your Gridcoin Wallet on your PC remotely!
Shows your Gridcoin Balance
Shows your Gridcoin Address
Displays your CPID
Additional Information includes:
Block Number
Proof-of-Research difficulty
Net Weitght
GRC Magnitude Unit
Displays your Wallet version
Shows the number of connection to your node
Now, RPC, or the Remote Protocol used in Gridcoin, is not enabled by default, so you'll need to modify your Gridcoin Wallet configuration file in order to enable the RPC needed for this app to connect to your Wallet on your PC. Fortunately, I also created a tool, open sourced, that allows you to simply enter the desired IP Address to allow access, Port Number, Username and Password, all in a very simple and easy to use interface, and Open Source too, so you can check out the source code for yourself. It even makes a backup of your Gridcoin Wallet configuration file, just to be sure.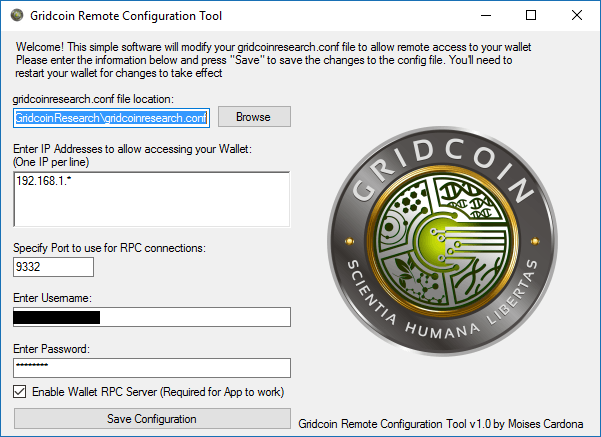 Where can you download the app? In the Google Play Store!
Or you can also use the following links:
App Screenshots: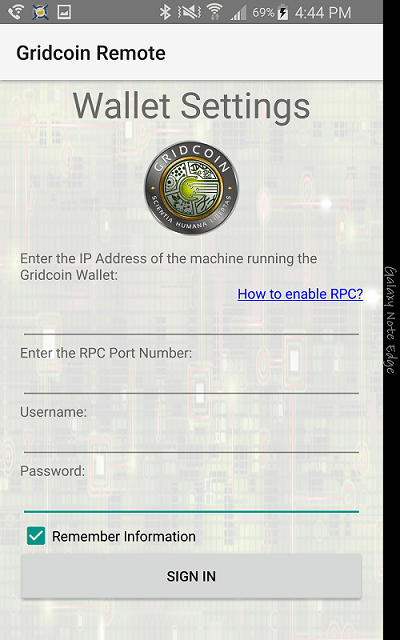 Enjoy!