Optical Quantum Blue CD-R Overview
Optical Quantum Blue CD-R Overview
Hi everyone,
Yesterday, I received a spindle of "Blue CD-R" from Optical Quantum. This brand is a subsidiary of Vinpower Digital and the discs are manufactured by Optodisc Taiwan:
I brought this spindle because the "Blue CD-R" caught my attention. Usually, CD-Rs are produced in a very light green color, but these discs should be different. These discs are marketed as having a "Blue AZO Burning Die", which should be superior than standard CD-Rs.
The discs are rated at 52x and can hold up to 700MB of data or 80 minutes of audio, which is standard of CD-R discs. This batch also appears to look like a dark green color, but not too much blue. The discs are printable too.
Checking these discs in Nero DiscSpeed gives us a Media ID Code (MID) of 97m24s01f, and is identified as "Taiyo Yuden". I'm not sure if this is legit, as it is my understanding that CMC Magnetics has the rights to use Taiyo Yuden codes, but since these are manufactured by Optodisc, I have my doubts.
It has to be noted that these brands tend to source their discs from different suppliers, usually from Ritek, which does use Ritek codes in their discs. Some other brands source their discs from CMC Magnetics, again, using CMC-MAG-xxx codes. In this case, I wonder if Optodisc is legitimately making "Taiyo Yuden-quality" discs. There are some articles that seem to refer to Optodisc making Taiyo Yuden-quality discs, so that may be the reason they are using their media code.
I checked these discs on 4 slim drives that I at the moment. Since I'm on vacation, I don't have my usual Lite-On drive to check these, but this will give you an idea of what to expect when using them on Slim drives. I also haven't burned them, so this will just be purely disc information below:
Toshiba-Samsung SN-208AB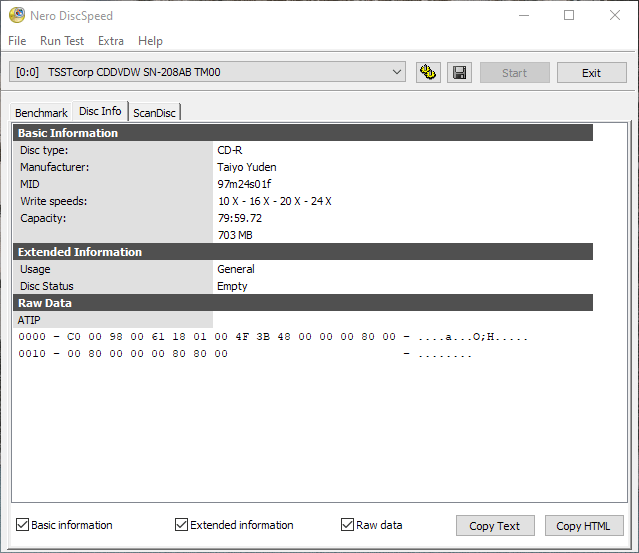 So far, the most reliable slim drive I have at the moment is this one, which reports burning these discs at 10x, 16x, 20x, and 24.
Panasonic UJ260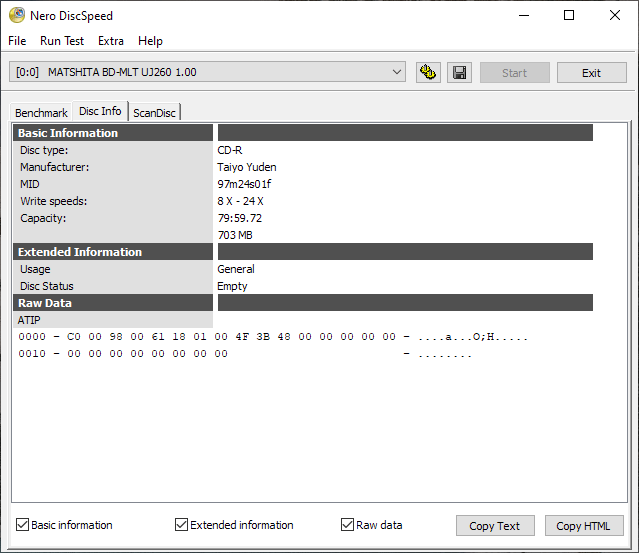 This is a Blu-Ray drive which has been my best Blu-Ray burner in years. This drive also supports CDs and DVDs, but usually burns at low speeds. This is why Nero DiscSpeed is reporting just 2 speeds: 8x and 24x.
LG BP60NB10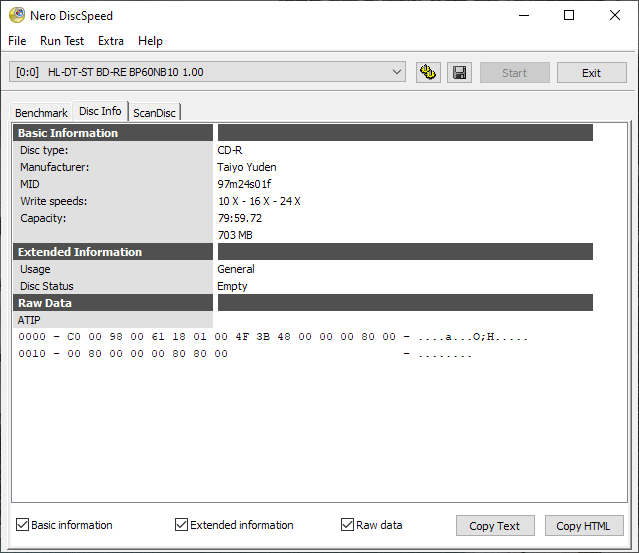 This is an LG "4K UHD official" drive. This one gives me headaches sometimes since it seems to lose focus while reading some times, a behavior I don't see on any other drive. Maybe it's faulty, but I also found that this drive depends heavily on the quality of the USB port and cable since it's USB-Powered. This drive supports burning these discs at 10x, 16x and 24x.
LG GT80N (HP Firmware Version)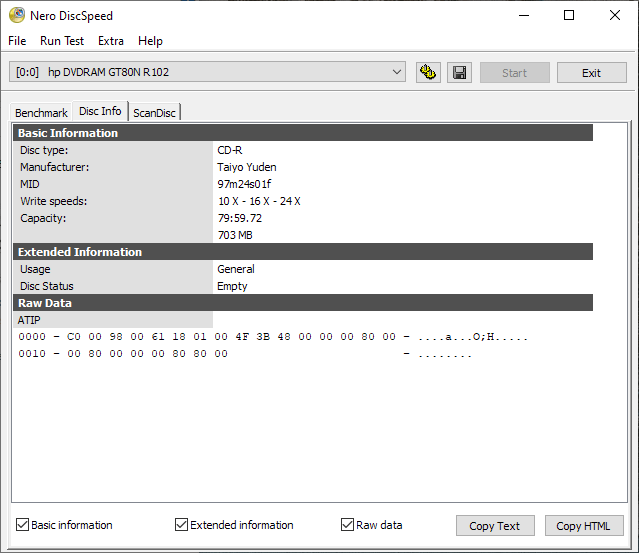 This drive is part of an HP laptop, which is why it is branded as HP rather than LG, but it is actually made by LG. On this drive, the disc is supported at a speed of 10x, 16x, and 24x.
Final Thoughts
These discs are marketed as Blue, but they seem to look dark green. This is still different from the majority of discs that look very light green. It seems to burn at a maximum speed of 24x on all of these slim drives, probably because of the use of the Taiyo Yuden media code, although nowadays, most media and drives burn most discs at 24x for Slim drives and 48x for desktop drives.
I haven't burned these discs yet. That will come when I have access to my Lite-On drive featuring LabelTag, as I also want to see how a label would look on these discs too. I expect these to burn flawlessly at 48x in that particular drive which I have trusted since 2010.
You can get these discs on Amazon below: