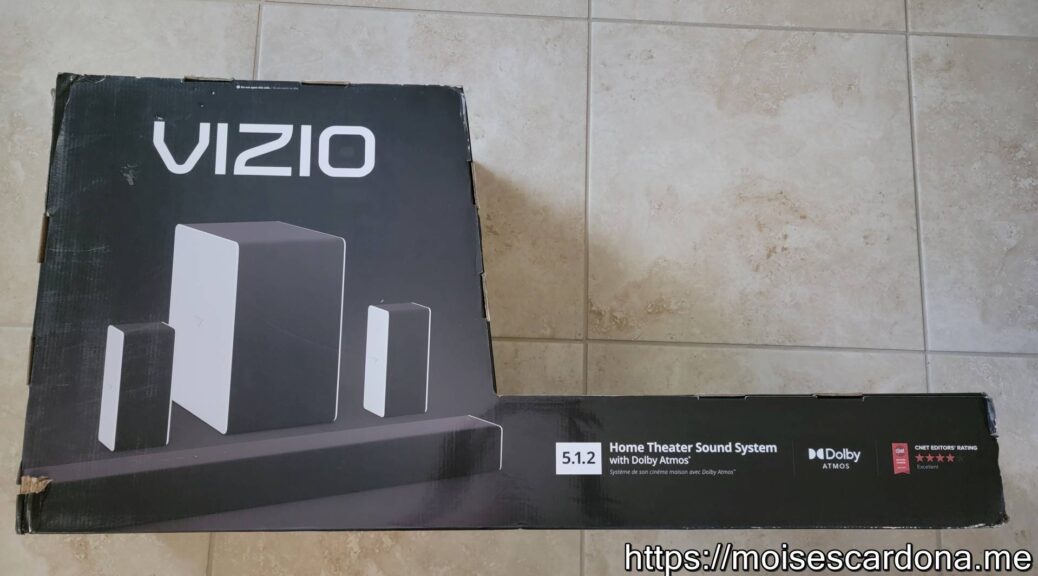 The Vizio 5.1.2 Dolby Atmos SB36512-F6 Soundbar
The Vizio 5.1.2 Dolby Atmos SB36512-F6 Soundbar
Hi everyone,
Today, we will be seeing the Vizio 5.1.2 Dolby Atmos SB36512-F6 Soundbar. I got this in a not so expected situation. I was at Sam's Club looking for a new Washing Machine for my parents, since the one they had was failing. While we were checking prices, I decided to go to the entertainment section where there were several Sound Bars. I saw this Vizio and proceeded to test the sound of each one. The sound of this one really stood out and eventually, we ended up getting it. We installed it at their house, watched a few movies with them, and the sound was so good that I just had to get one for myself.
This Sound Bar system is a 5.1.2 configuration, with the last .2 being 2 up-firing speakers used for Dolby Atmos content. The Sound Bar has the Front Left, Center, Front Right and the 2 up-firing speakers, while the Subwoofer wirelessly connects to the Sound Bar and the Rear Left and Rear Right speakers connects to it via cable. Therefore, the subwoofer is located at your side when watching movies or listening to Dolby Atmos music.
The box is L-Shaped due to its contents: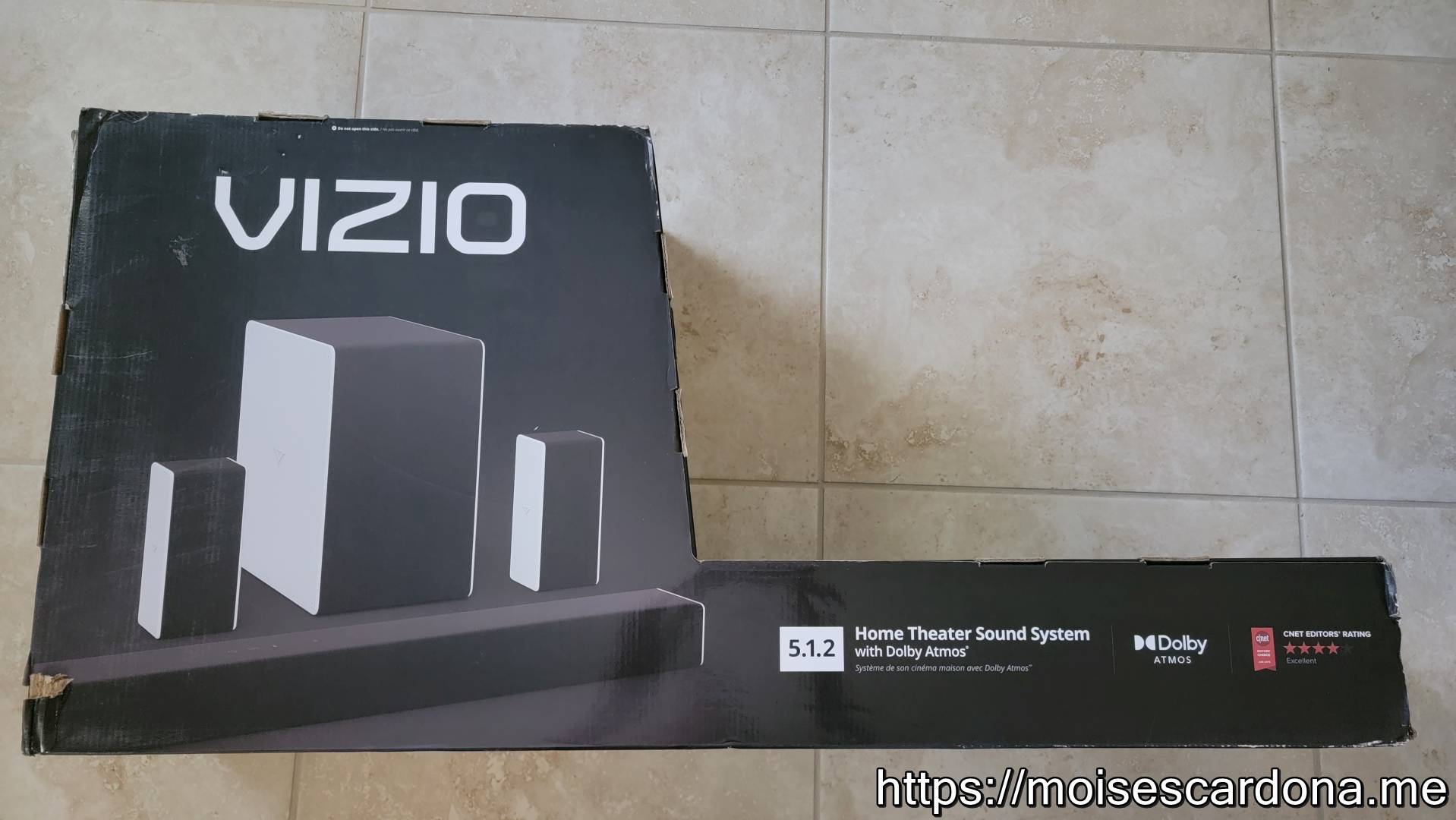 We see each component inside as well as a box with the accessories and a quick setup manual. On the side is the Subwoofer and rear speakers, and to the bottom is the Sound Bar with the accessories box: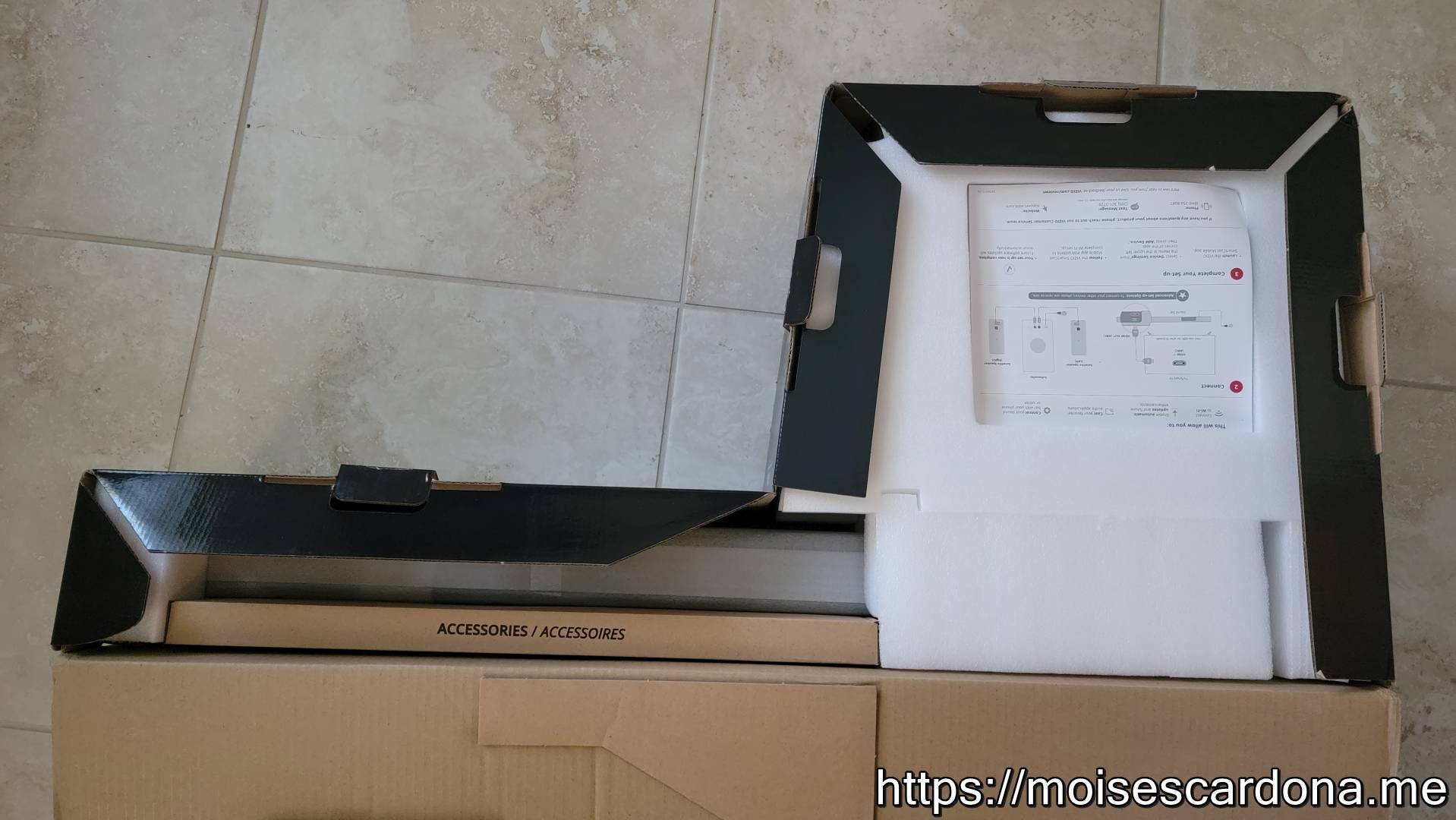 The Sound bar features an HDMI-In, 3.5mm jack and an Optical SPDIF/TOSLINK jack. You get these cables included so you can connect all of your equipment to it. Do note that if you have a DVD player with that orange Coaxial connector, you'll need an RCA Coaxial to SPDIF/Toslink converter. This way, you can experience surround sound and if your DVD player supports it, bitstreaming the Dolby Digital and DTS audio to the Sound Bar, both of which it can decode natively.
Because my house uses drywalls, even through the manual states to use drywall anchors, the speakers are not heavy, so I used those easy to use drywall screws and it's holding the rear speakers very well.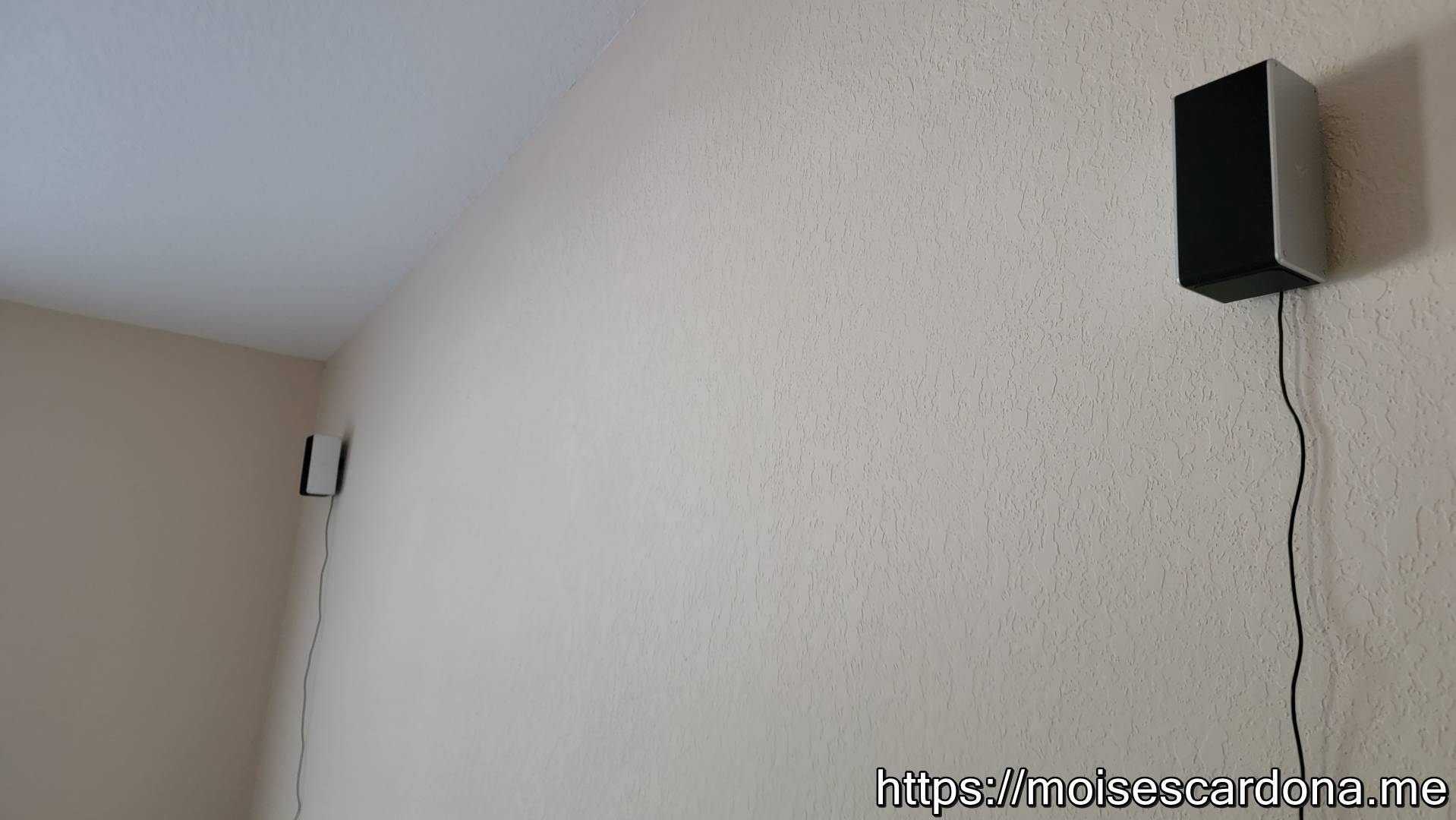 At the side of my sofa, stands the Subwoofer unit: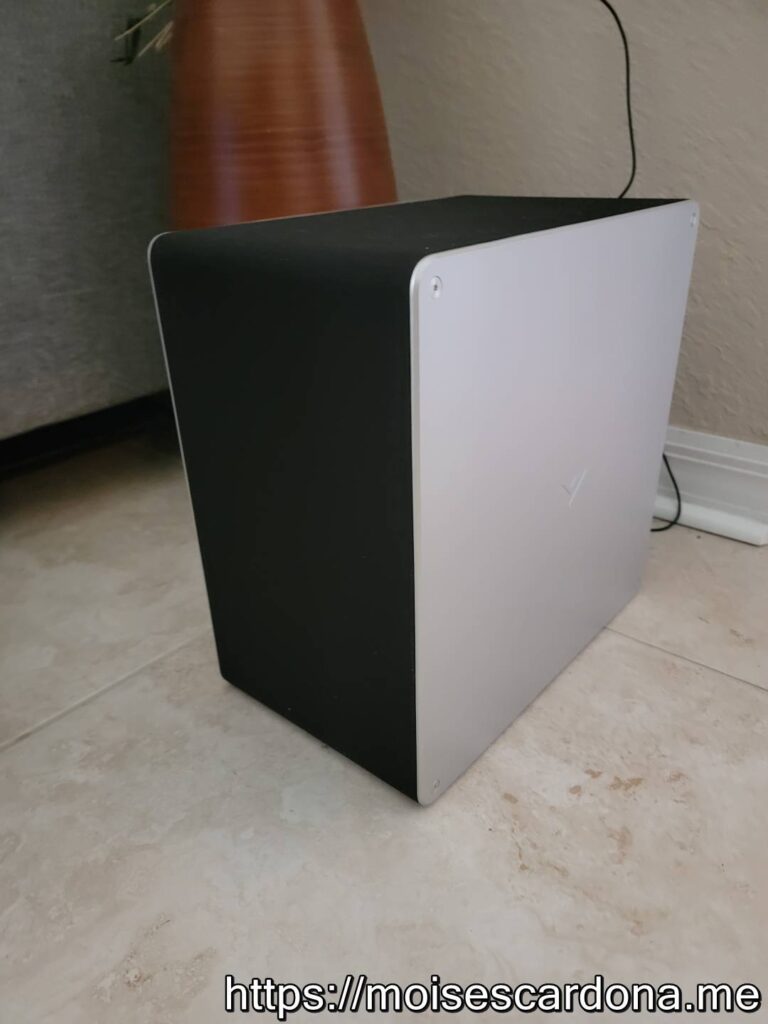 Then we have the main 36-inch soundbar which I installed at the top. The manual states you get the best audio at ear level, but since these houses have the ceiling at a higher altitude, it may make sense to have it on top of the TV so that the up-firing speakers may have a better effect hitting the ceiling.
Supported Audio Formats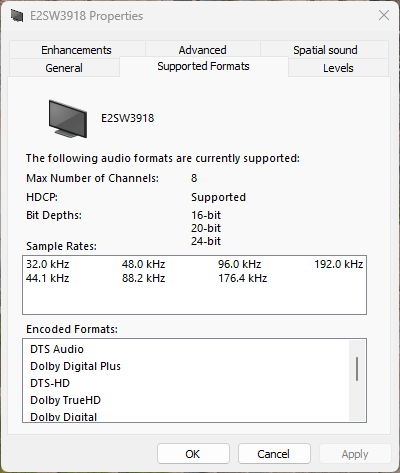 This Sound Bar supports native decoding of several Dolby and DTS audio formats, specifically, the following:
Dolby Digital
Dolby Digital Plus
Dolby TrueHD
Dolby Atmos (Supported in Dolby Digital Plus and Dolby TrueHD formats)
DTS
DTS-HD
Notably lacking here is DTS:X support, but that shouldn't be an issue since most content available for streaming are Dolby Digital Plus with some carrying the Dolby Atmos metadata. DTS-HD is mostly seen on most Blu-Ray discs with the exception of some that are now using Dolby TrueHD with Dolby Atmos. DVDs are mostly encoded with Dolby Digital Audio.
To really experience the soundbar decoding capabilities, you must set your devices to bitstream the audio. Otherwise, your device will send LPCM-decoded audio to your soundbar and it may not benefit from its native decoding capabilities. You will also lose Dolby Atmos this way. Your devices may have the option to send "Raw"/"Bitstream" or "PCM" audio. You'll need to have it set to either "Raw" or "Bitstream". This will greatly depend on your device, so be sure to read your TV or streaming device documentation.
My TV on its own can only decode Dolby Digital audio but nothing more. I also noticed that you get the best experience using the Sound Bar HDMI-In port because while my TV supports HDMI-ARC, it just simply can't pass the bitstream correctly or falls back to PCM. I think this is due to the fact that devices connected to the TV will only see the support for Dolby Digital and nothing else, while when connected to the soundbar HDMI-In, it will report all of the above formats, therefore enabling bitstreaming them to it.
Once setup correctly, you see the Sound Bar LED turn into 3 possible colors: Orange for DTS content, White for Dolby audio (Excluding Dolby Atmos), and Green for Dolby Atmos. If none of these shows up for a few seconds, it means it is receiving LPCM audio.
Dolby Atmos tests
I first tested the soundbar's Dolby Atmos decoding capabilities with a Blu-Ray Disc. I rented the new Moonfall movie last week and this disc has a Dolby Atmos soundtrack. The Sound Bar successfully identified the Dolby Atmos content, and you get a more immersive audio experience. All of the speakers did its job. The Sound Bar provided a good front stereo and dialog sound with a good sound field and separation. The Subwoofer really kicks on certain scenes and the rear speakers fires the sound giving you an all-around sound experience. Scenes with the helicopters and outer space were the most noticeable where you heard asteroids from every side as well as the mysterious space thing. The helicopters felt right above you. The soundtrack is well mastered, and this system was able to reproduce it and give an awesome movie experience.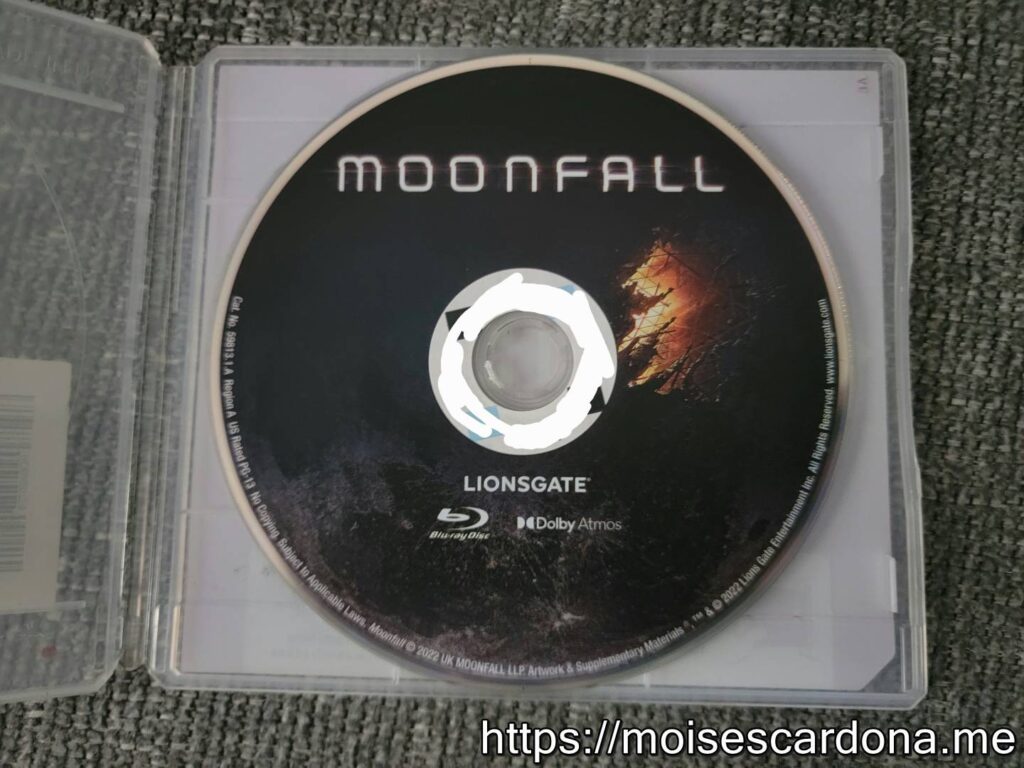 I then switched to use an Amazon Fire TV 4K stick (non-MAX version), and used the Disney+ app (Who else watched Moon Knight?). The soundbar also identified the Dolby Atmos soundtrack and again did a phenomenal job at decoding and reproducing the sound of the episodes I played.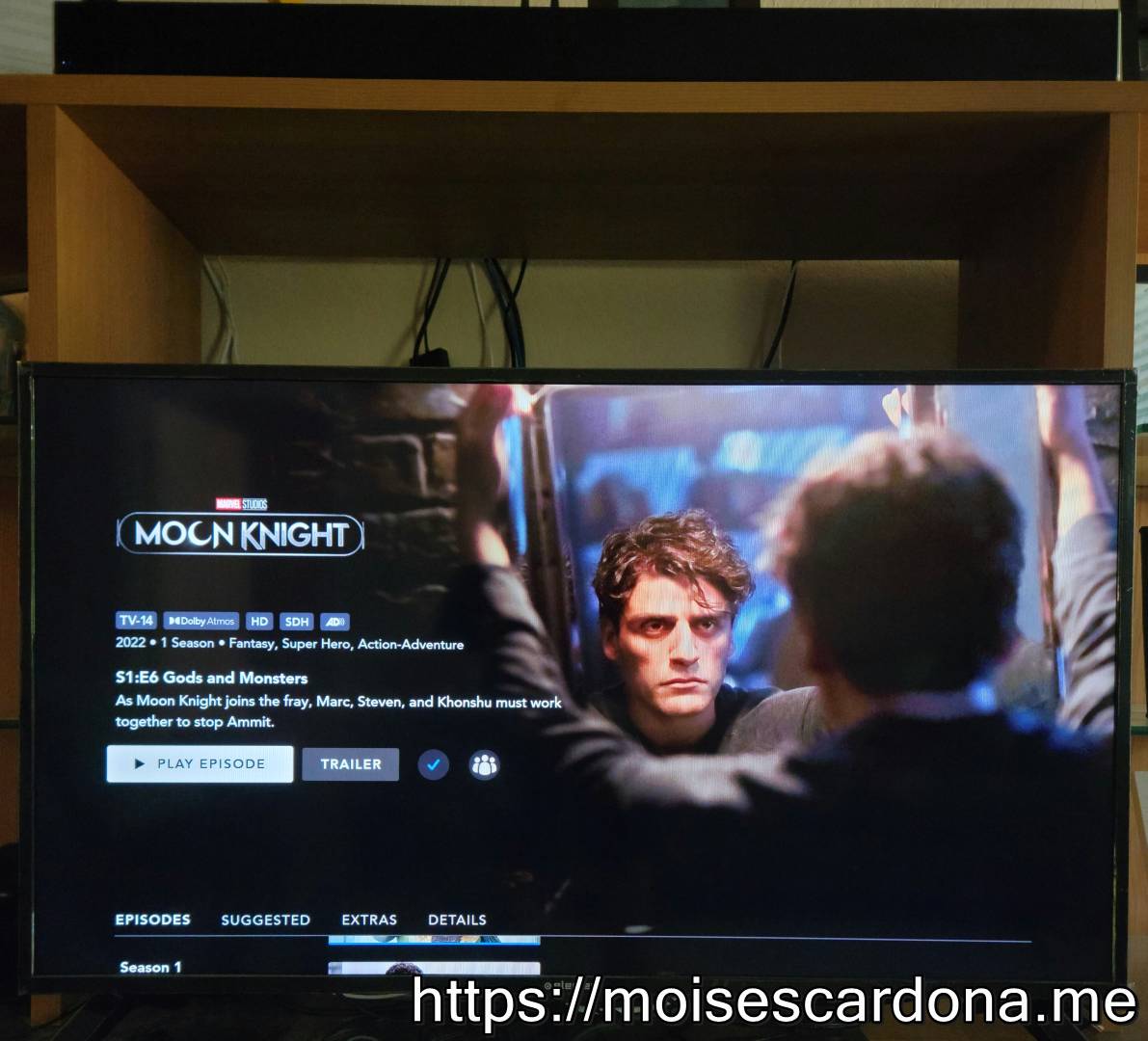 Another test I wanted to do some time ago was to listen to Tidal's Dolby Atmos music. This gives the best experience compared to just using headphones. The experience is way better and more immersive due to the speaker configuration. You'll hear music mostly from the front, but the subwoofer gives a bass boost, and the rear speakers have some sounds coming from it too. You'll hear those mostly with backup vocals and some instruments, but most of the work will be done with the Front Left and Front Right channels. It seems the Center channel is not used with this content.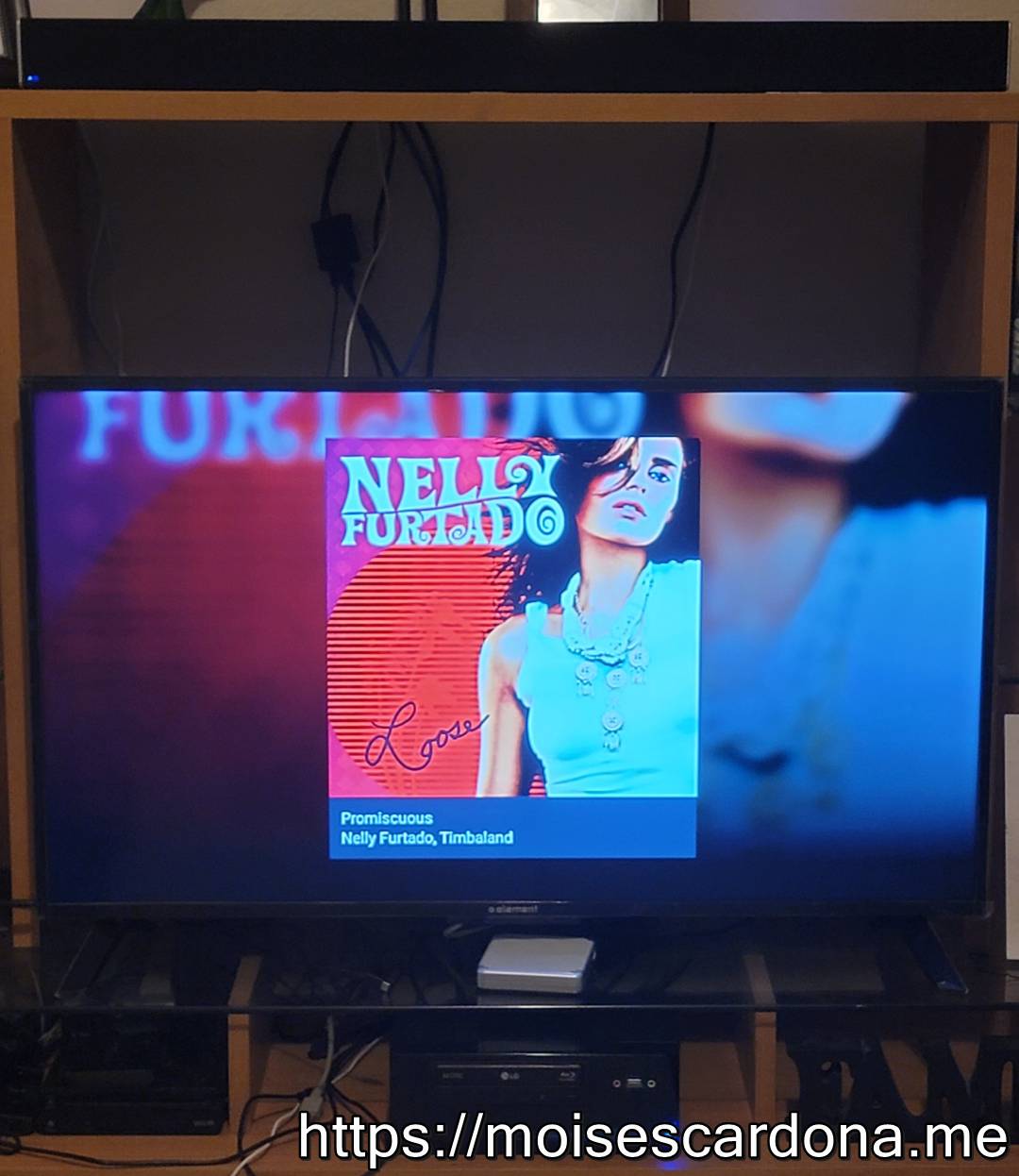 Conclusion
Setting up this Vizio 5.1.2 Dolby Atmos-compatible Sound Bar has really improved my movie watching experience. Once you start hearing sound all around you, it will be hard to just watch movies using headphones or front speakers only. One thing to keep in mind is that the original audio track is usually the one best mastered. This means if you listen to the Spanish audio dub on some films, you may get the 5.1 surround effect but no Dolby Atmos on those (Unless Spanish is the main movie/TV language). Always try to use the primary audio track for the best experience possible.