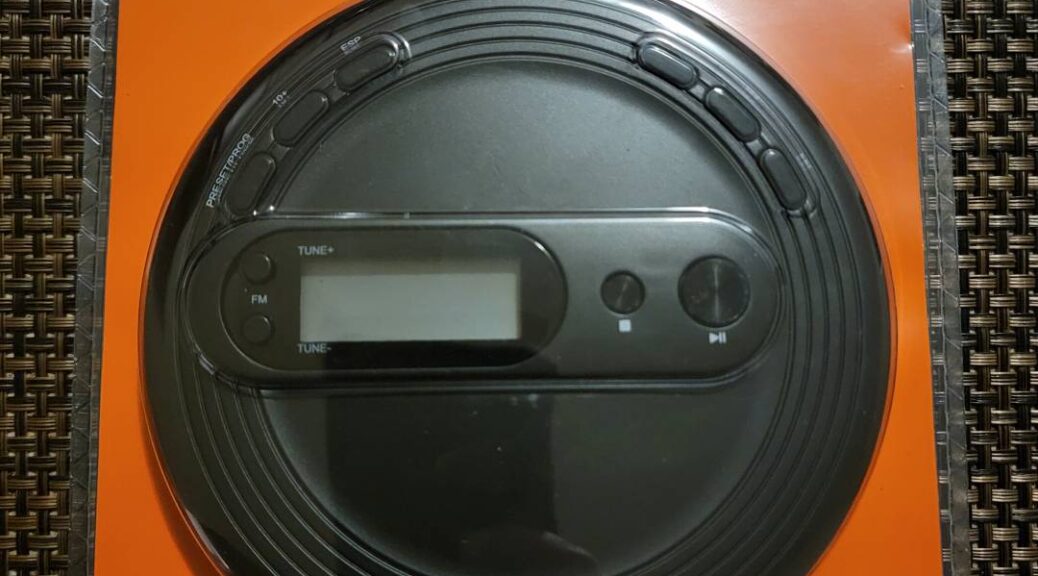 The Groove Onn Walmart Portable CD Player
The Groove Onn Walmart Portable CD Player
Hi everyone,
Today, we will be seeing another portable CD player. Yes, it is 2022 and it's the age of streaming, yet we can find CD players and can buy music CDs. What was interesting to see is a store selling these. I expected to see them on online sites like Amazon but not at a store at this time and age. So, I found this portable CD player at a relatively cheap price, and I decided to get it.
The CD player brand is Onn, which sells products on Walmart stores in the United States. This portable CD player also have an FM radio. It also lists compatibility with CD-R/RW and can read MP3 files. The player features a 60-second skip protection, also called ESP protection, or Electronic Skip Protection. It is powered by 2 AA batteries or with a Micro USB cable.
Unboxing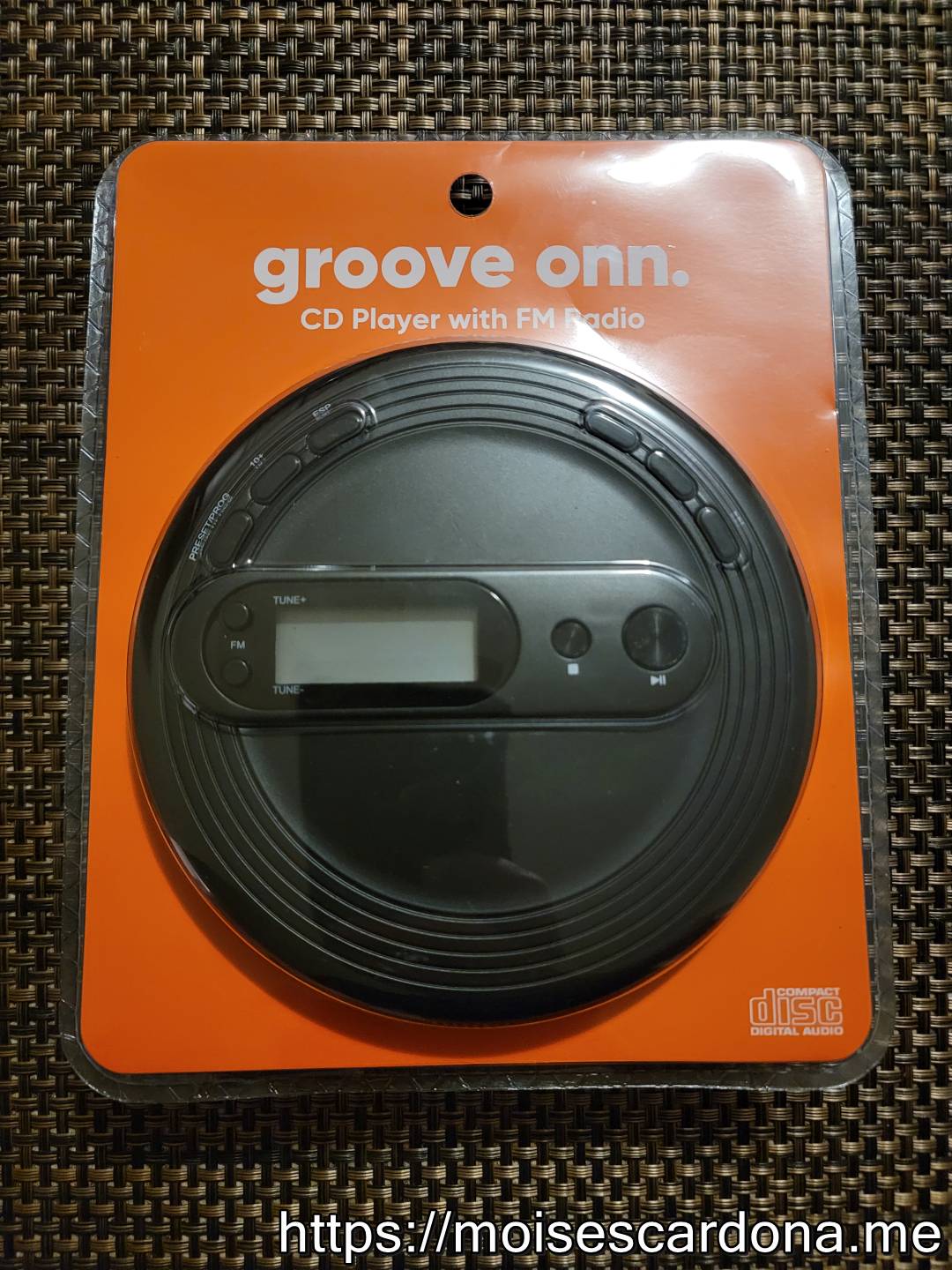 The CD player comes on a plastic package and comes with a very basic earbud. It does not come with batteries included, so you need to make sure you have them. The included manual strongly recommends the use of Alkaline batteries, but I have tested it with a brand that sells USB AA Li-Ion batteries and it worked fine.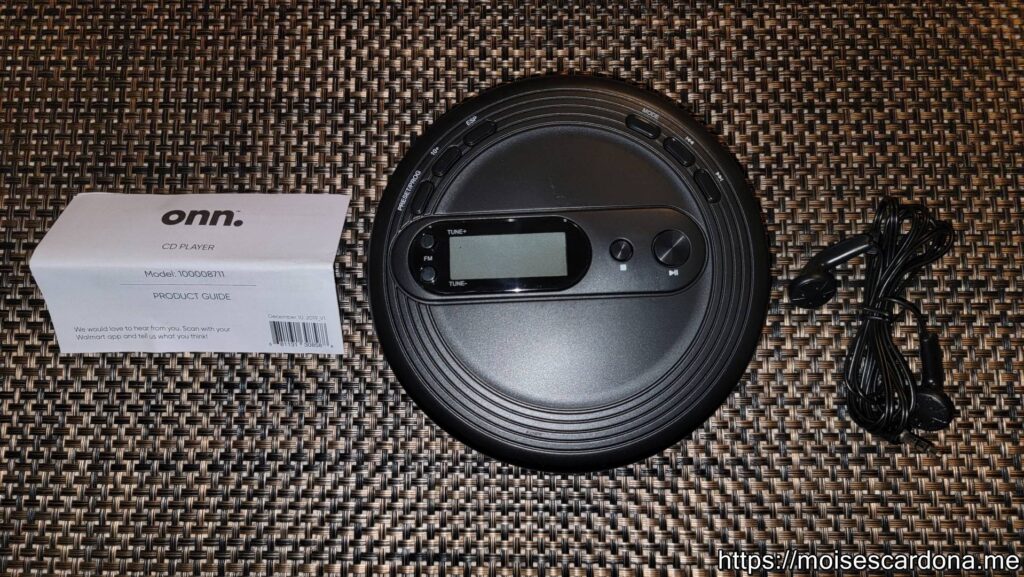 Some more pictures of the CD player: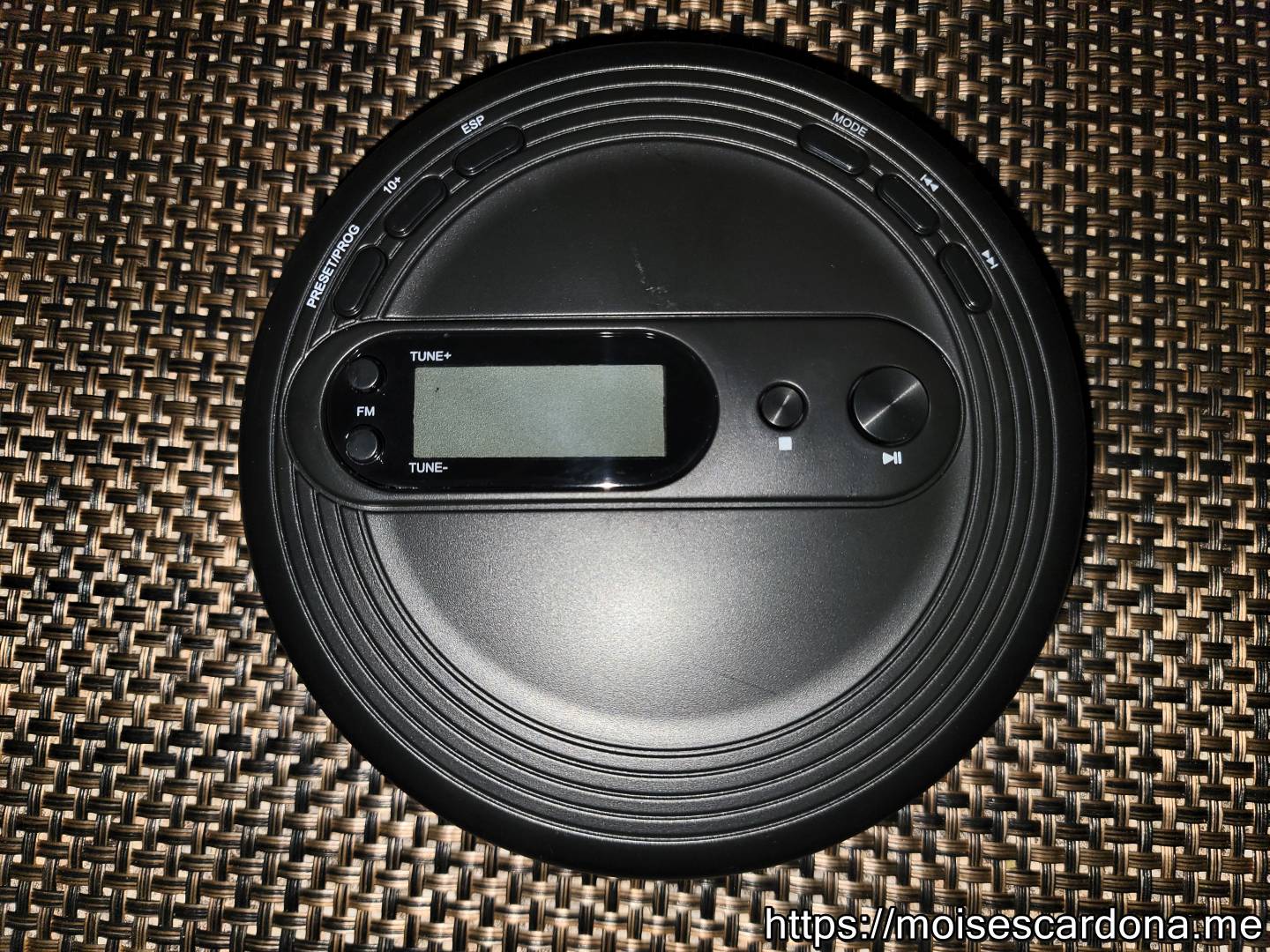 Review
I will start saying that this player refuses to work with NiMH rechargeable AA batteries. You will see that it will fail to recognize a disc. You may be lucky if the batteries are fully, fully charged, but as soon as you start playing back a disc, the next time you place another, it will fail to read. This issue does not happen when using a micro-USB power source and does not seem to happen with 1.5V Li-Ion AA batteries. I have not used Alkaline AA batteries as I refuse to use single-use batteries.
I tested it with burned CD-R/RW discs, testing first a CD-RW burned with several audio formats and file systems, which we will see below.
Supported Audio formats
This CD player, while not specified, can also read WMA and WAV files. The latter works with 44.1/48Khz 16-bit files which came as a surprise as these have a higher bitrate than standard 44.1Khz files. Do note that they need to be 16-bit. The player refuses to play back 24-bit files. So, in the end, this CD player will read MP3, WMA and WAV files.
In conclusion, this player reads the following formats
Red Book CD-DA compliant disc, including "Enhanced CDs".
MP3 files
WMA files
16-bit WAV files with a sample rate of 44.1Khz or 48Khz.
Supported file systems
This CD player will read Audio CDs and closed and open discs. In the case of data discs, a disc must be burned using the ISO 9660 filesystem + Joilet (recommended). You can also burn a disc using the UDF file system, but it must be UDF 2.01 or earlier. It will refuse to read discs burned with UDF 2.50 or later, and also fails to read discs burned with a combined ISO 9660 + UDF filesystem if it is using anything higher than UDF 2.01, even when it should theoretically work due to the inclusion of the ISO 9660 filesystem. In this case, the player attempts to read a disc but displays "Err" in the screen. The safest way to burn a disc is to have the filesystem set as ISO 9660 + Joilet. Recommended software to use is ImgBurn for data discs, and Burrrn for Audio CDs. Speed doesn't matter, and it will perfectly read a disc burned at a speed of 48x skip-free.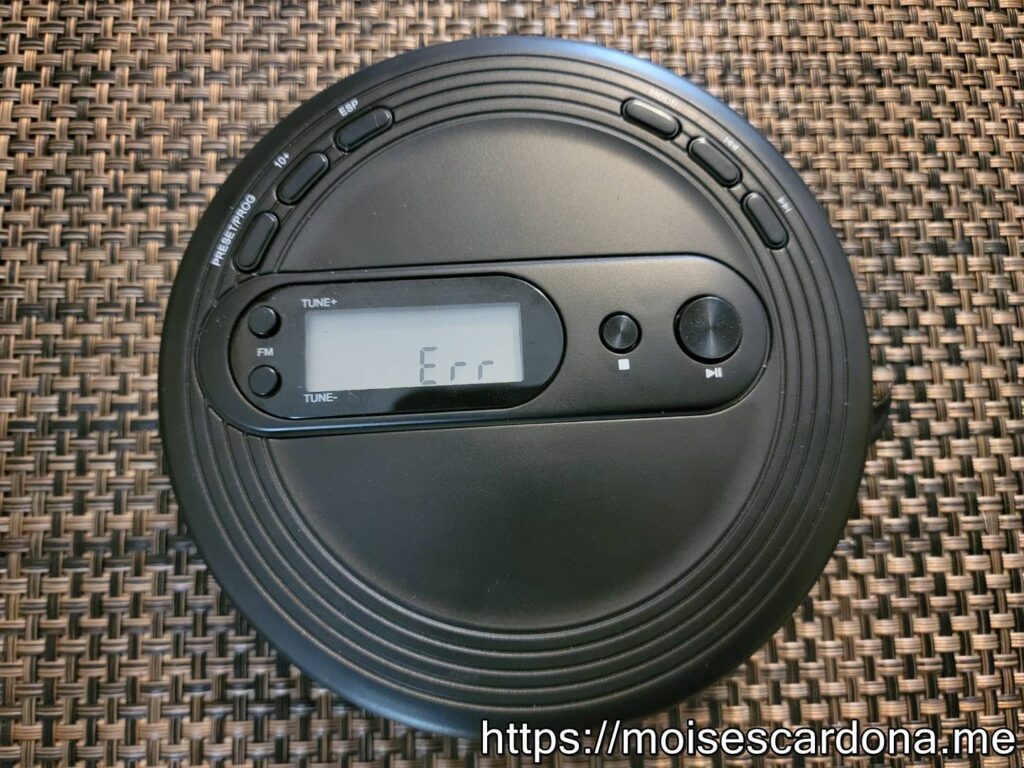 The CD player seem to detect single session discs as "CD" (Audio CD), but in the case you burn a disc session as an Audio CD and later add a data session (say, to store a CD album artwork or some other data related to the audio CD), it mistakenly detects it as "MP3". I guess it is because of the data session but it doesn't matter at the end. The Audio CD will play normally despite the LCD showing it is an "MP3" disc. This same behavior happens on "Enhanced Audio CDs", where you usually get extra content when you insert the audio CD in your computer.
In the case of discs containing WMA or WAV files, it will also show "MP3" in the LCD screen. I guess this is a way of saying that it identified the disc as having a data session.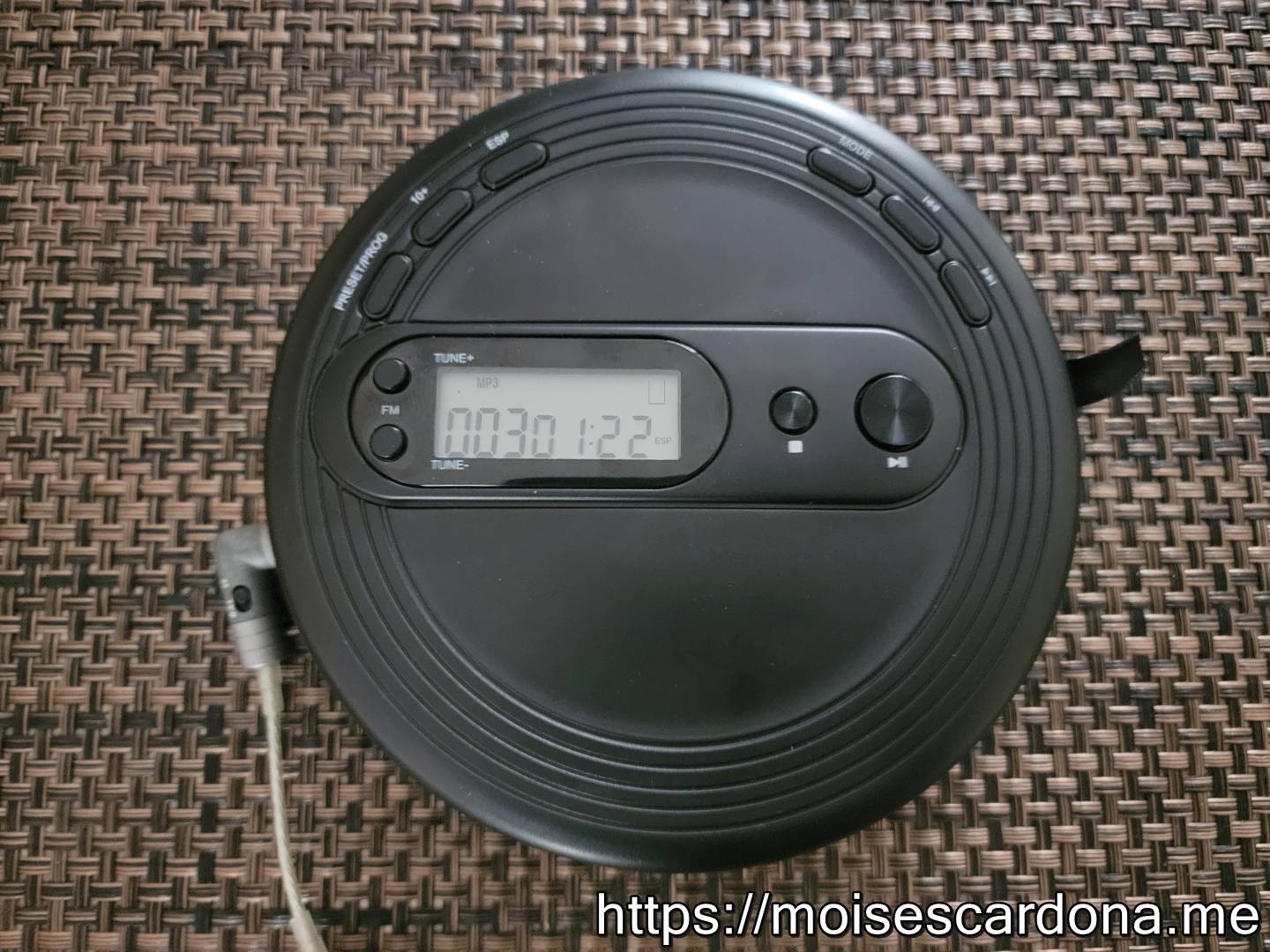 Tested CD-R/RW discs
I tested this CD player with the following discs:
Optical Quantum "Blue" CD-R – MID: 97m24s01f (Taiyo Yuden Co.)
PlexDisc CD-R – MID: 97m22s67f (Daxon), manufactured by OptoDisc Taiwan.
Unknown brand Mini CD-R – MID: 97m15s17f (Ritek Co.)
Verbatim CD-R – MID: 97m15s17f (Ritek Co.)
Verbatim CD-R – MID: 97m17s06f (Moser Baer India)
Verbatim CD-RW – MID: 97m34s23f (Mitsubishi Chemical Corp.)
Audio Quality
This CD player is basic, but the sound is actually good. I consider it to have a warm profile. The bass and mids seem to have body, and the treble is present. This may be great for those preferring a warm profile with a treble that is not piercing. Do note that I use an IFI IEMatch and also an additional volume control "dongle" to have a better volume control and reduce wear of the internal player volume control wheel.
Conclusion
At almost $25, you get a CD player that's powered with AA batteries and therefore replaceable as opposed to players with integrated batteries. This CD player doesn't have Bluetooth built-in, which makes it affordable. It does have an FM radio if you're into listening some local station. You can switch between FM and CD mode using a switch on its side. The player doesn't have Equalization profiles which makes the sound be reproduced "as is". It has a 60-second skip-free protection that once it's filled, the disc will stop spinning, saving a bit of battery life. On MP3 and WMA files, it seems to cache it into this memory, and the disc temporarily stops spinning as well. On Audio CDs identified as "MP3" as well as on data CDs containing WAV files, the anti-skip protection seem to never fill, but I haven't experienced any skipping at all. It's hard to tell whether the anti-skip protection is actually working or if the CD reading mechanism is so good that it can handle constant movements.
The player manual strongly recommends the use of Alkaline AA batteries and it fails to work properly with NiMH batteries. It worked with the EBL USB 1.5v AA Li-Ion batteries I have, so I guess as long as it can output something higher than 1.2V, it should work. In terms of battery life, with these batteries, it lasted a full day and it still had a charge.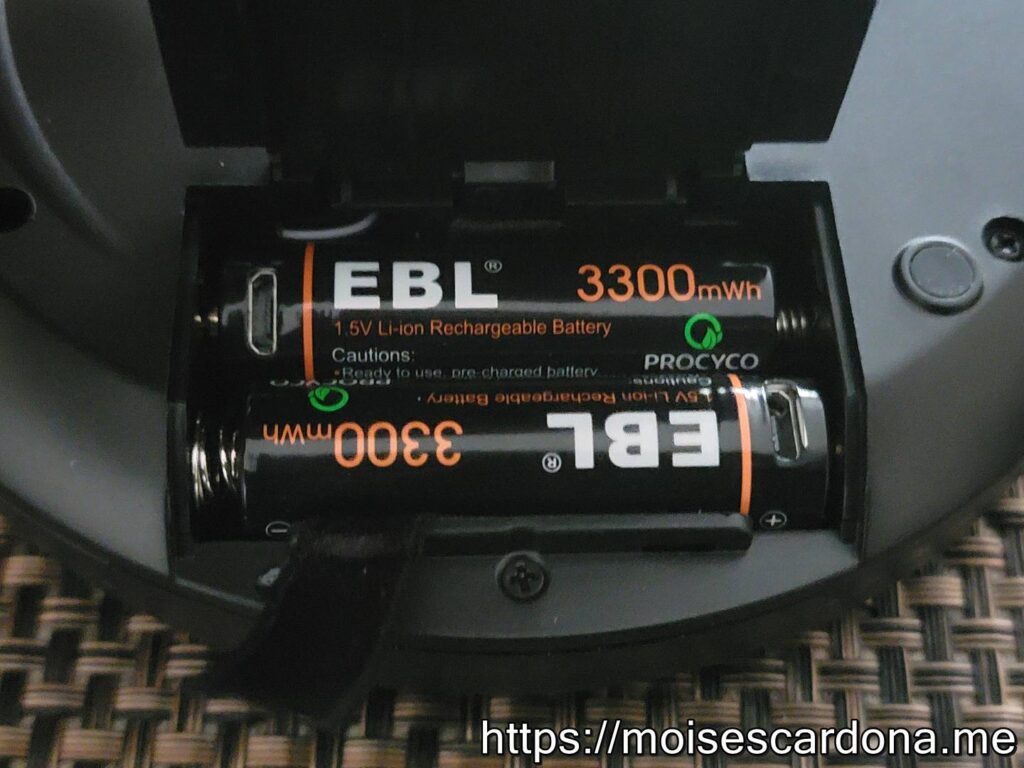 To finish, I have been enjoying this player and at that price, it's a handy item you can use to play back your audio CD collection.