The Oakcastle CD100 Portable CD Player with Bluetooth
The Oakcastle CD100 Portable CD Player with Bluetooth
Hi everyone,
Today, I'll present you the Oakcastle CD100 Portable CD Player. Yes, a CD Player, and this one has Bluetooth in it. As you may know, nowadays people use streaming services to listen to music, which includes services with lossless audio quality. However, some people also prefer to buy CDs and listen to them, as some may argue that CDs offer better quality than lossless streaming services. Others buy them to collect them.
I'm one of the few who prefer to listen to Audio CDs, collecting them if I find it worth it after listening to them on streaming services. I do listen to them, but on my PC, as I didn't have a CD player. My last one died lots of years ago, probably due to battery leakage. Thankfully, CD players are still being made and now comes with a rechargeable built-in battery, but the biggest new feature that's coming to them is Bluetooth audio transmission. This is really important because, in a world that has shifted toward digital streaming and Bluetooth headphones, this means we can pair them to this CD player. It also means we can pair it to cars that no longer have an internal CD player.
Unboxing
I was suprised by the small, simple box.
Opening and starting to take out what's inside, we first see the instruction manual and the CD player behind:
The box on the left contains all of the cables and the included in-ear headphone:
The CD player is very well protected with a foam container:
Let's take a look at the CD optics:
First impressions
This CD player states that it can read Audio CD, CD-R, CD-RW, and discs containing MP3 files. I have tested it with some burned CD-Rs and can say that it works flawlessly. My discs are specially burned because I tend to create a LabelTag label on the data side. These discs are therefore considered multisession discs, as the label counts as a session on the disc structure. The CD player could read it without any issues at all.
The audio quality is very good, both when connected to the 3.5mm jack and when using Bluetooth.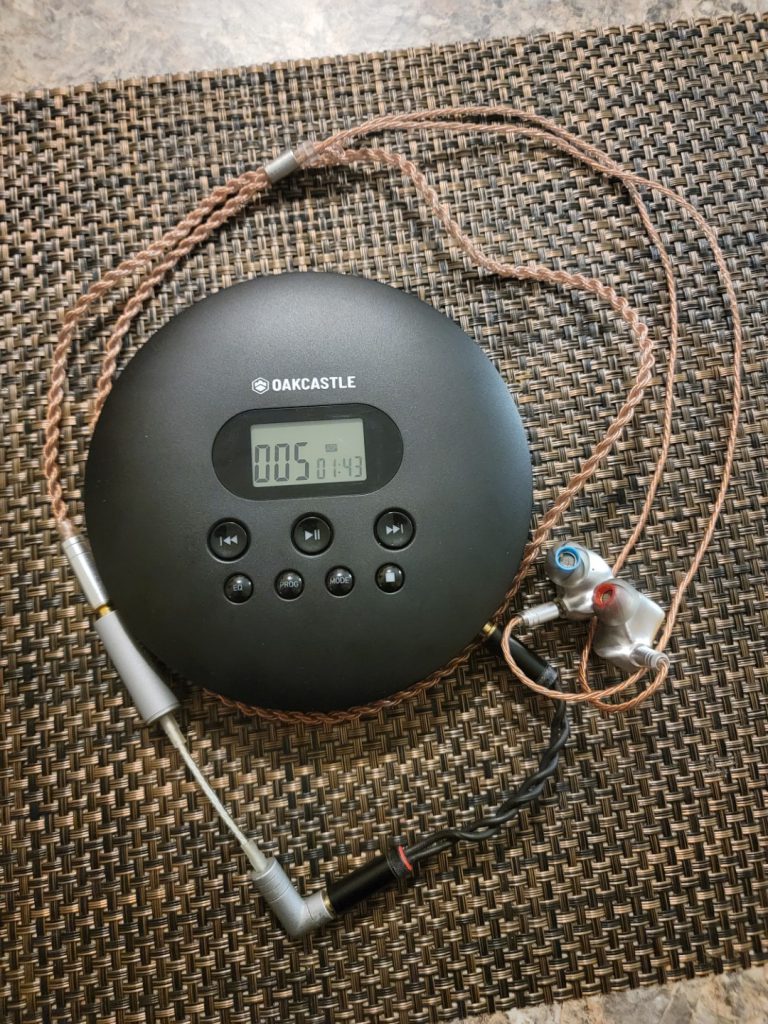 The volume is very loud, so the IFI IEMatch comes in handy here, to reduce the volume by -24db. The Bluetooth sound is very clear. The difference I noticed is that the bass is a bit less present. It's there, but it's just not as dynamic as when using the headphone jack. The treble, on the other hand, seems to be the star of the show, along with crystal clear vocals. Maybe it's the treble that may be shadowing the bass. Overall, everything sounds finer, even considering that it only transmits audio using the SBC codec.
The CD player charges via USB at a max of 1 amp. This basically allows you to use any USB charger you may have around. You can also use it while charging it.
Conclusion
My first impressions of this product are very positive. I'm pleased with the sound quality, both wired and on Bluetooth. It paired easily with my FiiO BTR5 and Hiby W3, both of which use a Qualcomm chipset. This means it should theoretically pair with headphones and receivers having one of their chips.
This CD player can also read MP3 files, and it worked really well on these discs too. It does take a second or two to load it, but works, and the audio quality is also very, very good. I just wish the next generation of players can read FLAC files directly too.
Regarding the battery life, I'll play audio CDs non-stop to know how much time I can listen to music without having to recharge it.
UPDATE 3/26/2021: This CD Player can also play WMA files.
So far, I'm really impressed with it.
You can order this CD player on Amazon at the following link: