The SanDisk Ultra Flair 16GB USB 3.0 Flash Drive
The SanDisk Ultra Flair 16GB USB 3.0 Flash Drive
Hi everyone,
In this post, I'll talk about the SanDisk Ultra Flair 16GB USB 3.0 Flash Drive.
This is a USB 3.0 drive meaning file transfers should be fast. However, is it worth it? Let's find out below, but first, let's see a few pictures of the product:
This is the USB Drive in its package:
Opening the package:
The USB Flash Drive (Front):
The USB Flash Drive (Back):
And now, to the benchmarks!
Here, I'm testing with CrystalDiskMark 5 when the USB Drive is plugged in a USB 3.0 port: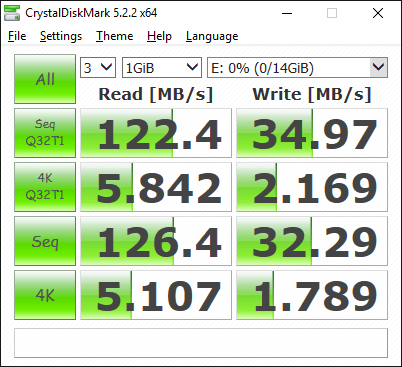 And here's a test when plugged in a USB 2.0 port: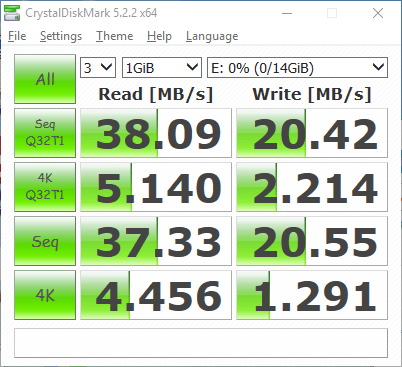 Conclusion:
We can see that Read Performance is fast when plugged into a USB 3.0 port, reaching 120MB+ per second, but Write Performance is poor for such drive, writing at speeds of a little more than 30MB/s. The package does specify that the Write Speed of the 16GB version is slower than the other capacities, which may imply that they're using a less expensive flash component or something.
However, looking at the USB 2.0 performance, it performs good as well. Write speeds are 10MB/s slower than when writing files via USB 3.0, but read speeds almost reaches 40MB/s. This makes it ideal for use on USB 2.0 ports unless read speeds are more important than the write speeds, in which you should use this in a USB 3.0 port to take full advantage of the read speed.
That's my thought on this, as I'm using this drive on a first-gen Intel Compute Stick which shipped with Ubuntu and only has a USB 2.0 port. That Intel Compute Stick only has 8GB of storage, so I'm using this flash drive with a Windows To Go installation to run Windows on that stick. I can definitely say this drive performs really good compared to other cheap USB 2.0 16GB sticks, and I do recommend it, but don't recommend it for cases where you want write speeds to be a priority.
Final Words:
Again, if Write Speed is important, this is not for you, but if Read Speeds are more important, then definitely you should pick this drive.
Where to Buy?
You can get this Flash Drive on Amazon here.