The PortaPow Data Blocker USB Adapter with Smart Charge
The PortaPow Data Blocker USB Adapter with Smart Charge
Hi everyone,
Today, I'll show you the PortaPow Data Blocker USB Adapter with Smart Charge.
This is an adapter that, as the title says, blocks Data. This means that when you use this adapter in a PC USB Port, it will allow your tablet/phone to charge at the port maximum speed, overriding the 500mA USB limit. This is because when a PC detects a data connection, it negotiates the power with the controller. Some devices uses 100mA, like mouses and keyboards, and other more powerful stuff uses the full 500mA from the port. However, since this adapter blocks data between the device and the PC USB port, it doesn't negotiates the power needed and as such, passes the full power the USB controller can supply.
The SmartCharge meaning in this device is because there is a controller that can check what device you have connected. There's several charging standards like Samsung, Apple, and others. The adapter will detect that and because of this, allows fast charging for your device.
Please bear in mind that you must use a high quality USB cable or your device may not charge at full speed.
Let's take a look at the adapter:
I purchased the 2-pack PortaPow Data Blocker on Amazon, so that's why you see 2 adapters there.
Taking off the package contents, we can see again the 2 adapters plus a product overview sheet: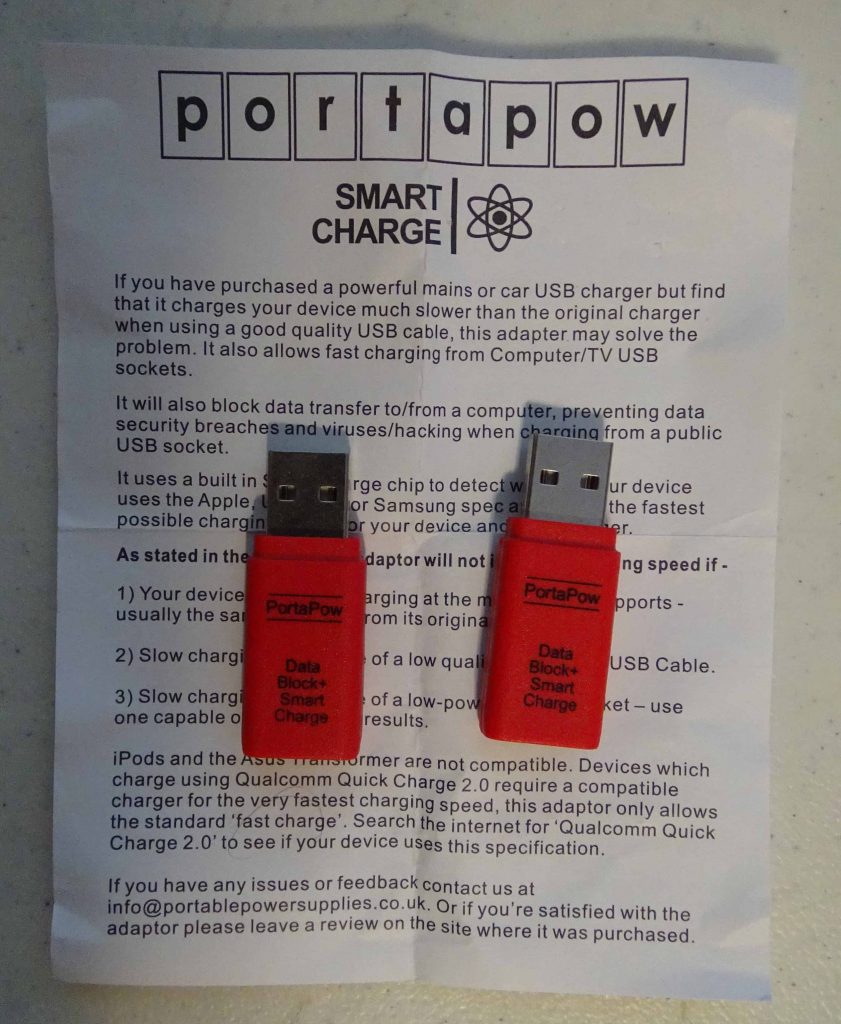 That sheet also has some important information, like that you need to use a high quality USB cable and that the USB port must be able to supply enough power, or your device may not charge at fast speeds: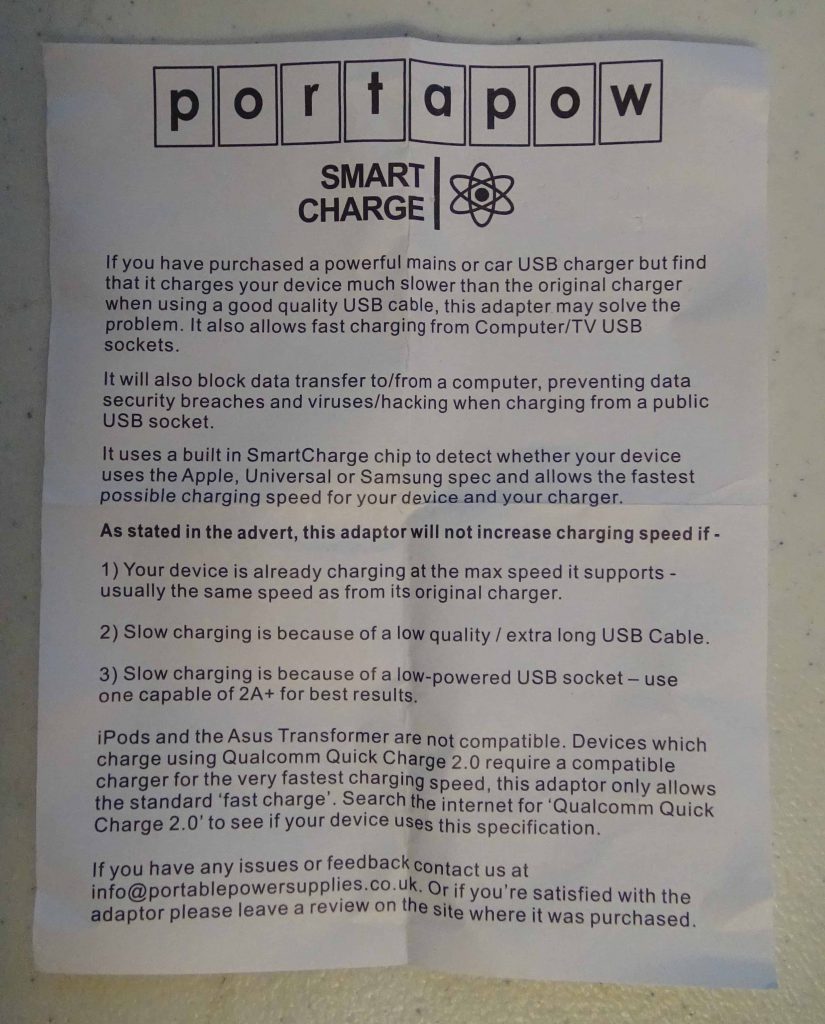 A closer look at the adapters:
The USB Male connector:
The USB Female connector, where our USB cable will be connected:
Testing the adapter:
For this test, I'm using an Aukey Micro USB cable, which is of good quality. I'm also using my Lenovo laptop USB 3.0 port. The app being used in the phone is the Pro version of Galaxy Charging Current, which is an excellent app to measure how much power our device is consuming from the USB charger.
Here, I'm charging my Samsung phone by directly connecting it to the PC USB port. You can see that the power being drawn is 433mA because the PC detects there's data and negotiates the power to 500mA:
However, when I plug the PortaPow Data Blocker, we can see it charges normally at 1200mA, or 1.2A. This is normal for this device when not using Qualcomm Quick Charge. The device is charging at 5V here:
See the difference between using the adapter and without it? Now our device charges faster and comes in handy when we can't use our wall USB charger.
That's it!
I definitely recommend this adapter. It is cheap too! The 2-pack costs only $12.99 on Amazon.