Verbatim 4x BDXL 100GB Blank Media
Verbatim 4x BDXL 100GB Blank Media
Hi everyone,
Yesterday, I received my very first BDXL media. These are way more expensive than BD-R and about twice the cost of BD-R DL media.
For my first BDXL recordable media, I decided to get the Verbatim 10-pack spindle. These seem to be one of the lowest-priced media when compared to 3-packs or 5-packs variants of other manufacturers.
These BDXL discs are rated at 4x, but my LG WH14NS40 crossflashed to the WH16NS60 firmware detects them as having a write speed of up to 8x.
The Media ID is VERBAT-IMk-000.
On my Panasonic UJ260, these have a maximum write speed of just 2x.
I added files to burn using ImgBurn, and made sure to use the most space possible. I then started the burning process on my WH14NS14 at the maximum supported speed of 8x.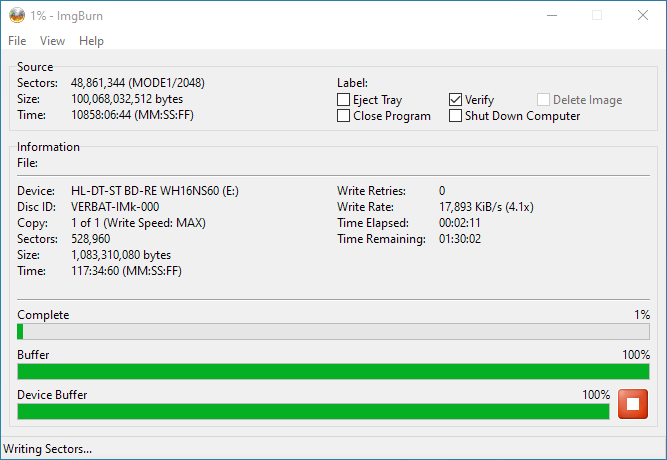 It seems the drive use a Z-CLV (Zoned Constant Linear Velocity) strategy to burn these discs. The write pattern was as follows:
Layer 0: 4x -> 6x -> 8x
Layer 1: 8x -> 6x -> 4x
Layer 2: 4x -> 6x -> 8x
We can see the pattern below:
Some times, when the writing was at 4x, the drive would go down to 3.3x for about 1 second or 2:
The same happened when the drive was recording at 6x, going down to 5x for a second or 2:
The drive successfully burned this media, having an average speed of 5.7x: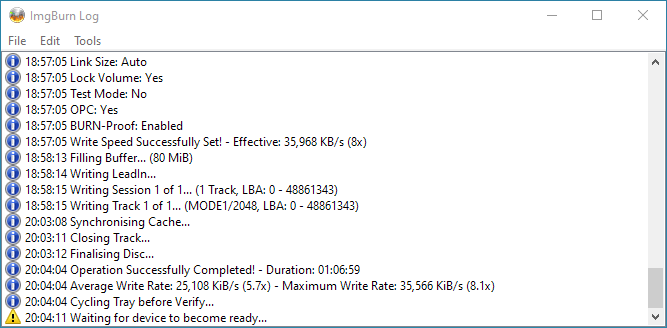 Verification was slower than the writing itself, as it limited the read speed to 6x:
The verification was successful and no errors were reported:
The average read speed was 4.3x, slower than the 5.7x average when writing to it. It also seems that while ImgBurn set a read speed of up to 6x, the drive went all the way to 9x, according to the Maximum Verify Rate.
Here, we can see the written disc with its Z-CLV zones:
Conclusion
These discs seem to be compatible with the LG WH14NS40 Blu-Ray writer. They also burn at a faster 8x speed which is more than its rated speed of 4x. The drive was able to successfully burn them and read them. These discs, while expensive, allow us to write up to 100GB (about 93GB of actual storage) on a single medium. It would have taken us 4 25GB BD-R or 2 50GB BD-R DL media to write an equivalent amount of data.
Unfortunately, I don't have any BDXL scanner I can use to test the quality, but the media can be read back on the LG drive as well as on my Panasonic UJ260. The latter seems to read the disc in Z-CLV too, but it was able to read the data back successfully too. It is just slower than the LG drive.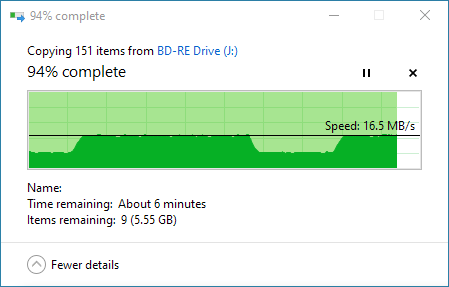 If we compare the price of having 10x 100GB Blu-Ray discs to owning a 1TB Hard Disk Drive, we can see that the BDXL media is a couple dollars more:
The BDXL media on eBay (It was at $53.15 at the time of puchase):
On Amazon. They seem to have lowered the price to $49.99 at the time I took this screenshot:
The price of 1TB Hard Disk Drives on Amazon:
Ultimately, it all would depend on your needs. Personally, I like to write data that will not be used frequently on optical media, while having frequently-changing data on the discs. I've also had a bad experience of having Hard Drives fail, and while I've had optical media fail too (Some bad Blu-Ray batches that deteriorated in a couple of years), the data loss is not as much as losing a whole hard drive. Remember to back-up your data!