AMD Ryzen 7 1700 overclocked to 3.6Ghz
AMD Ryzen 7 1700 overclocked to 3.6Ghz
Hi everyone,
Yesterday night, I was playing with the motherboard BIOS and overclocked my CPU to 3.6Ghz, using a multiplier of x36. Voltage is set to Auto and it is currently using 1.36v, although CPU-Z reports weird readings of 1.94 and 2.000V, which are incorrect readings.
Here is a benchmark from Cinebench and CPU-Z. Below you can see my current system specs:
Cinebench:
CPU-Z Bench: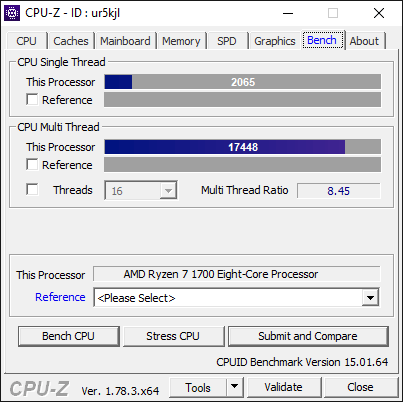 CPU-Z System Information:
HWiNFO:
About the temperatures, I'm using the Stock Cooler and running BOINC which uses all cores and threads and also the GPU to 100%. That's why HWiNFO reports 100% load on every core and thread:
The system is running stable. No crashes, no shut downs. It is perfectly stable!
More system info can be found here: http://valid.x86.fr/ur5kjl
What about you? Have you overclocked your CPU?