The Genki Bluetooth Adapter for Nintendo Switch
The Genki Bluetooth Adapter for Nintendo Switch
Today, I'd like to show you the Genki Bluetooth Adapter specifically made for the Nintendo Switch. This was a Kickstarter Project that ran successfully. The Genki Bluetooth adapter is basically a USB-C Audio Device that converts the audio signal into Bluetooth and transmits it to your favorite headphones or Bluetooth receivers. Given that this is basically a USB-C adapter, this means that it is also compatible with PC's and certain Android devices supporting USB-C audio devices.
Since the Nintendo Switch doesn't currently allow the connection of Bluetooth audio devices, this comes very handy, as the latest Switch firmware adds support for USB Audio Devices. This adapter does its magic because it has a chip that converts the audio that the Switch transmits to this device into Bluetooth and therefore enables you to use your Bluetooth devices with your switch. It also has the benefit of using Qualcomm's aptX and aptX Low Latency codecs, the latter which is a most to play without any noticeable audio lag. It also supports the AAC codec and of course, the standard SBC codec.
As to why you'd like to use this device on your Android phone or PC, there are several reasons. The first is that all of the pairings is done on the device, which means you don't have to play with your phone or PC bluetooth settings, and the second reason is the inclusion of the aptX Low Latency codec, which, if you have an aptX Low Latency receiving device, you'll be able to game or watch a video without any lip-sync or gaming audio issues.
I, as a backer of interesting products, backed this device and I'll be showing this to you. Let's start!
The first thing you'll notice is how it comes packaged. It looks like if it's a Nintendo Switch game: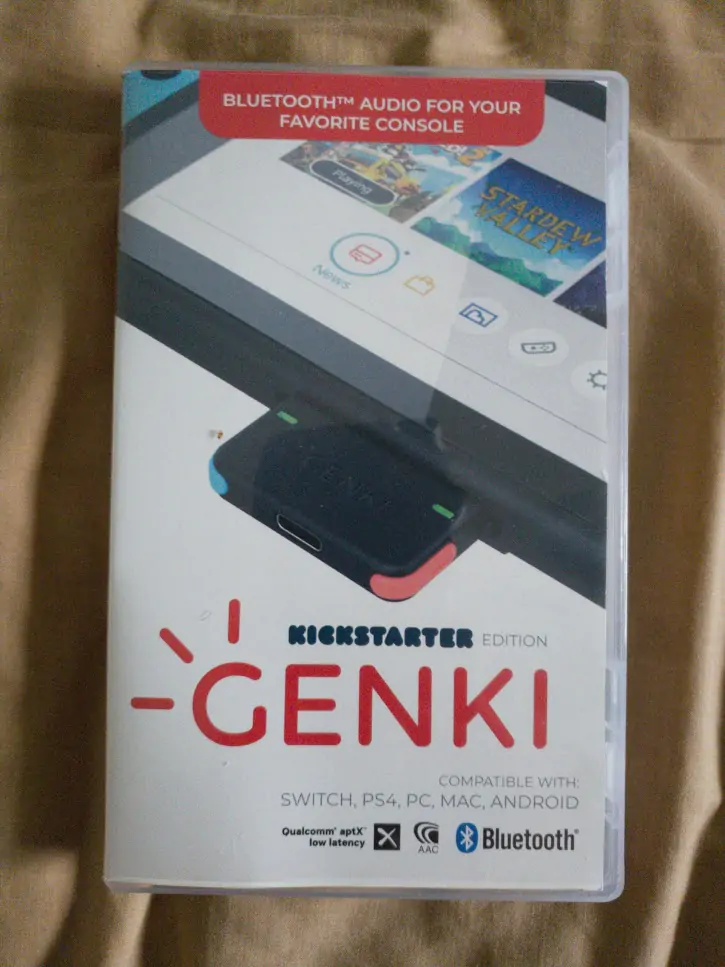 You can see more details of the Genki on the back of the case:
Opening it has a familiar look to a real game case, but of course, the right side is adapted to hold the adapter along with the accessories:
On the left, you see the instructions of how to use this little device:
On the right, it's the adapter and the accessories, similar to how you'll find a Nintendo Switch game cart on this side:
The Genki adapter is very small, as you can see here:
It also comes with this Microphone to use it on compatible games:
And of course, you're most interested in seeing this connected to the Nintendo Switch, so here it is!
And if you want to use the adapter in a PC, you'll need a USB-A to USB-C adapter, and it would look like this:
Finally, Windows will recognize this as an Audio device, as you can see:
Now you can enjoy wireless audio with your USB-C devices, especially on your Switch!
Hope you enjoyed the photos!